Shower pans ARE NOT a sexy topic. Ok – they're sexier than talking about your shower drain…but not by much.
However, if you've experienced these 5 problems, you'll come to the realization shower pans are a more important than you thought.
Problem #1 – Your 'cost-effective' plastic shower pan (or expensive hand-built tile shower) failed leaving you with an expensive 're-remodel' (and yes, I know this isn't an ACTUAL word) when you learned you must rebuild the ENTIRE SHOWER again.
Problem #2 – You realize – after the fact – you bought a pan where the drain hole was on the wrong side. Now you're getting slammed with a 25% restocking fee – and you have to eat the shipping expense to send the pan back to the supplier.
Problem #3 – You can't for the life of you find a cost-effective shower pan for your corner shower or your shower you want to enter on the 'short end' of the base.
Problem #4 – The new shower pan you waited 12 weeks to get FINALLY arrived. Then you unpacked it to find the flanges on the side are broken. YIKES!
Problem #5 – The shower pan options you've seen at the big-box stores are boring and only come in white. And sizes are oh-so-limited as well.
If you've experienced any of these 5 problems, you're primed to solve them with a reversible shower pan. And if right now you're saying, "Mike, what the heck is a reversible shower pan?" you're not alone.
In this article, I'll first define what a reversible shower pan is. Second, I'll look at the advantages and disadvantages of this type of base. And finally, I'd love to hear your opinion if a reversible shower pan makes sense for your project. So, here we go.
What is a reversible shower pan? (AKA – a flangeless shower pan)
A reversible shower pan is simply a shower base where all sides around the pan have finished curbs. There are no flanges pre-attached to the pan (note – some people call this a flangeless shower pan). A reversible pan is available with different curb heights, colors, patterns, and drains. It can be used in alcove, corner, or even 3-sided glass showers.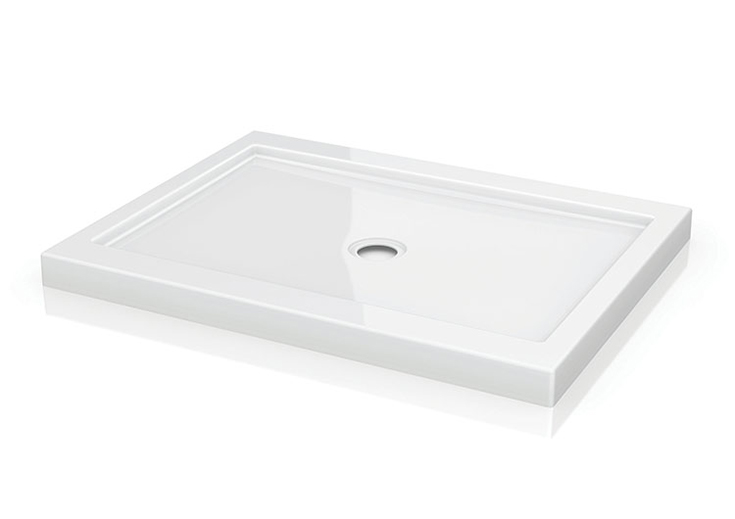 So, now that you know what a reversible shower pan is, you may be wondering what are its advantages? Here's 8 advantages you'll want to know.
Advantages of Reversible Shower Pans
Advantage #1 – Reversible shower pans can save you money
Many people 'assume' because they need a common 60" x 32" or 60" x 36" shower pan, they can find a 'standard shower base' at their local home center store and are 'good to go.' However, if you need to enter your shower on the short 36" side, "Houston (or whatever your name is), you'll have a problem." You see finding a standard pan with 'pre-attached flanges' with the entry curb on the 36" side ain't gonna happen' (to use 'right-good' English).
However, this is where reversible shower pan – which doesn't have flanges pre-attached – is a H-U-G-E benefit. You see with reversible pans (without pre-attached flanges) you can buy a premade (NOT CUSTOM) pan and enter on the 36" sides.
As a matter of fact, reversible pans can be used 'out of the box' for an alcove shower, a corner shower, a shower you need to enter on the 'short side,' or even for a 3-sided glass shower. Check out the 5 possible options below to see how a reversible pan can become the ultimate 'flexible pan.'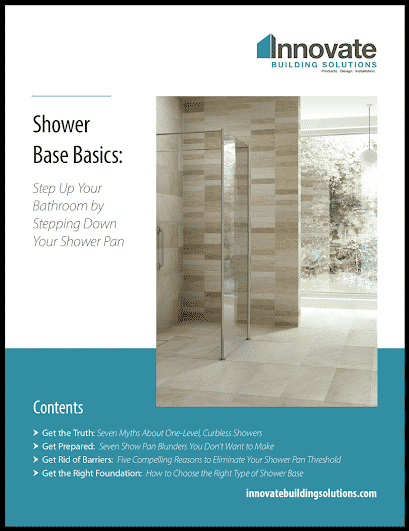 Get Our Ultimate Shower Base Guide!
Step Up Your Bathroom by Stepping Down Your Shower Pan!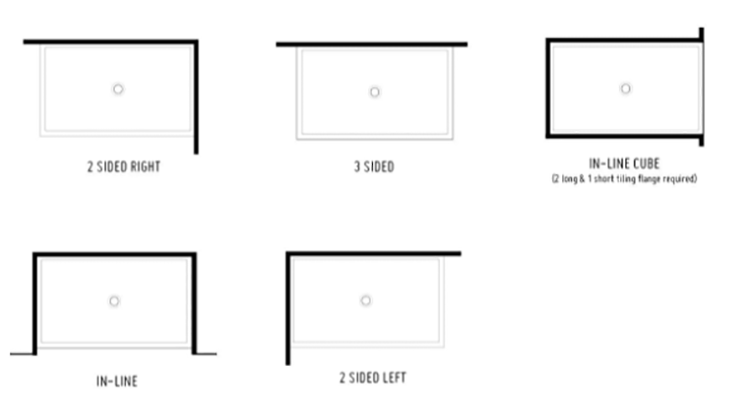 This ability to use a standard reversible shower pan vs. a custom pan can save you from $300 to $500. Now, that's not 'chump change!'
Advantage #2 – You can get multiple drain options  
With reversible shower pans you're not limited to a run-of-the-mill round drain. Choose a square drain, a 'decorative disappearing drain' (like you'll see below) or a fast-draining – and stylish – linear drain.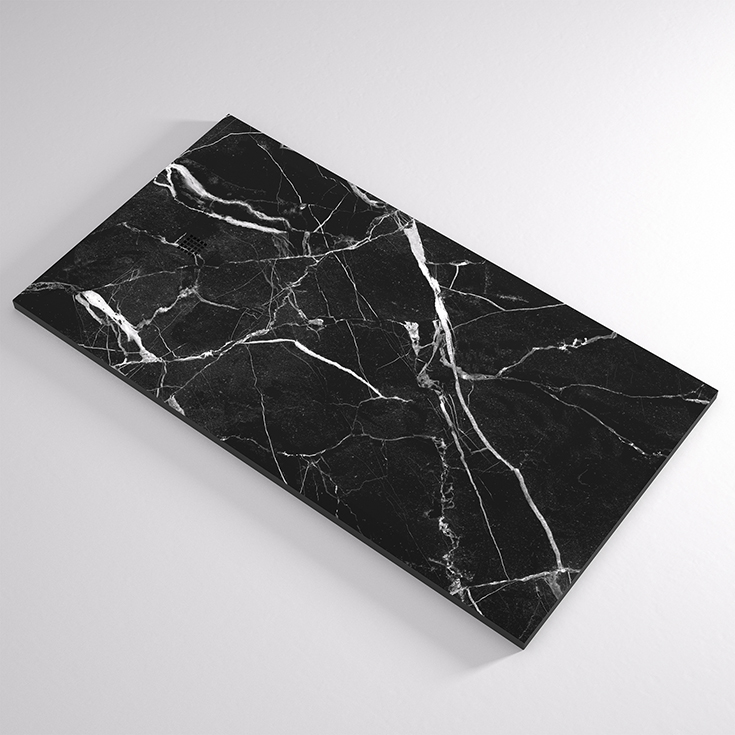 Advantage #3 – You'll avoid screwing up the order and finding your drain is on the wrong side
If you're ever ordered a shower only to find out 'after the fact' you don't know your left (drain) from your right (drain), you're not alone. Some people don't realize when you order a shower drain the orientation of the pan is from the outside of the shower. So, a 'left drain' shower is left from the outside.
And not understanding left from right, can become an expensive mistake if the company you buy them from not only has restock fees, but you also need to ship the base back to them to boot!
With a reversible shower pan, even if you get the orientation wrong you can just 'flip the pan around' and put the drain on the left or right side.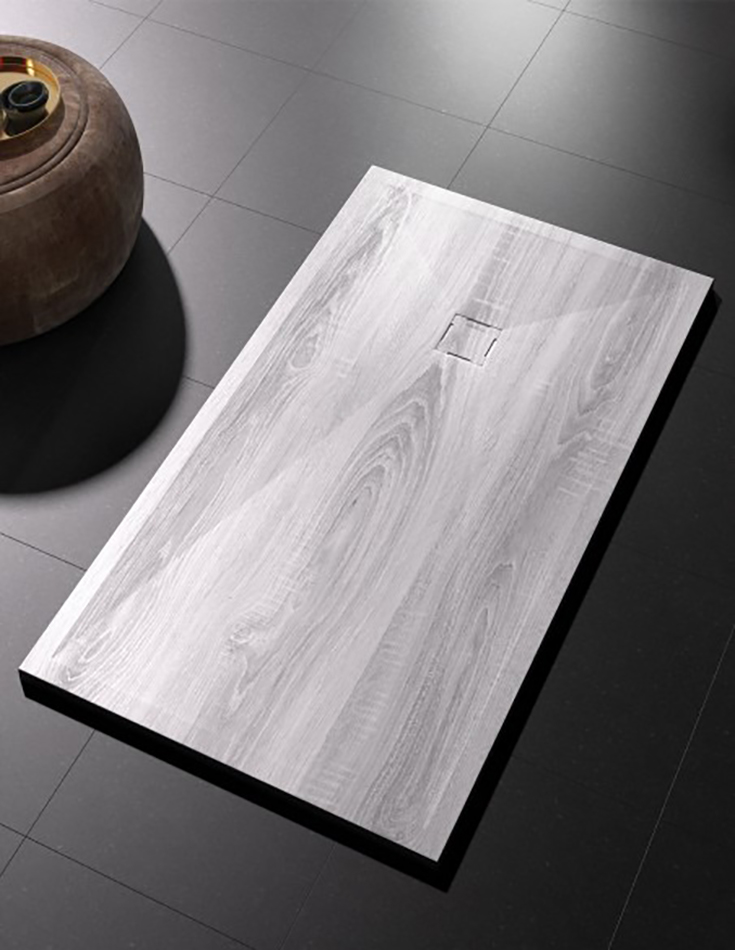 Advantage #4 – You can buy a reversible shower pan in matte or gloss finishes in multiples patterns and colors
Just because reversible shower pans are flexible on which side you can put the drain, doesn't mean they're limited in color, size, and patterns.
For example, you can get a reversible shower pan in a fun white or black marble design like you'll see below.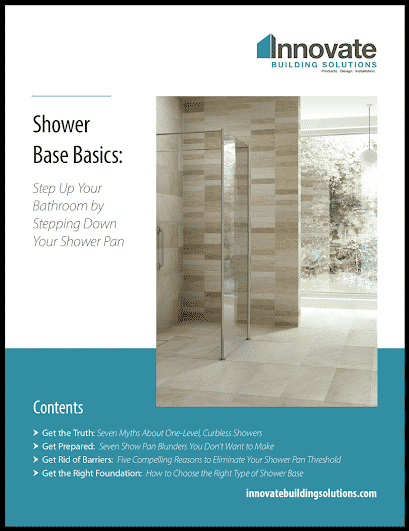 Get Our Ultimate Shower Base Guide!
Step Up Your Bathroom by Stepping Down Your Shower Pan!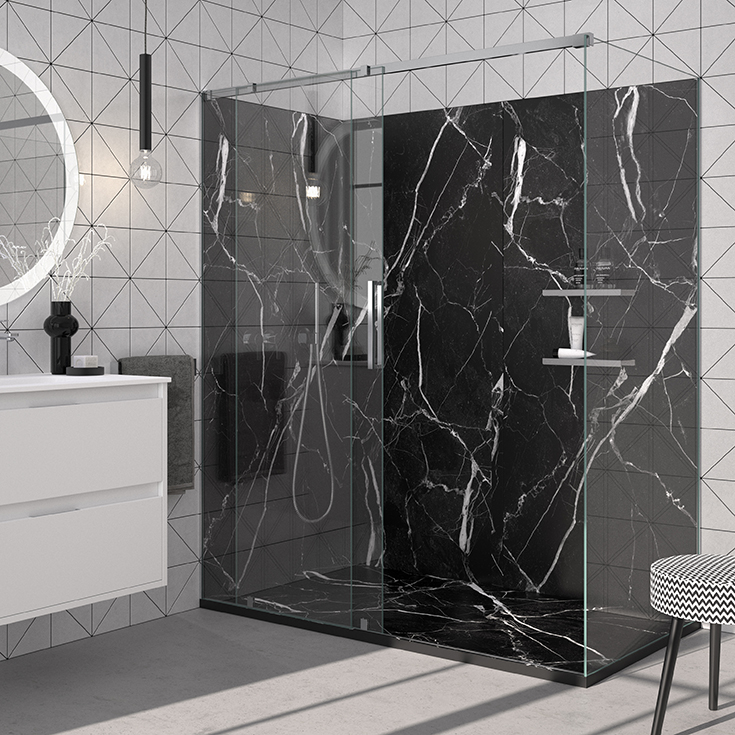 You can get a reversible pan in a low-profile design (or even make it a roll in shower) if you're worried about Mom or Dad falling while stepping into the space.   
 Advantage #5 – Reversible pans are available in multiple materials
 Although most reversible shower pans you'll see advertised online are made of fiberglass and acrylic, these are by no means the only options.
In Europe – and becoming increasingly popular in the United States, you'll see reversible solid surface shower pans in multiple colors and patterns.
In addition, you can even get a reversible waterproof ready for tile shower pan or glass reinforced plastic with a colored top surface which is perfect for a roll in shower.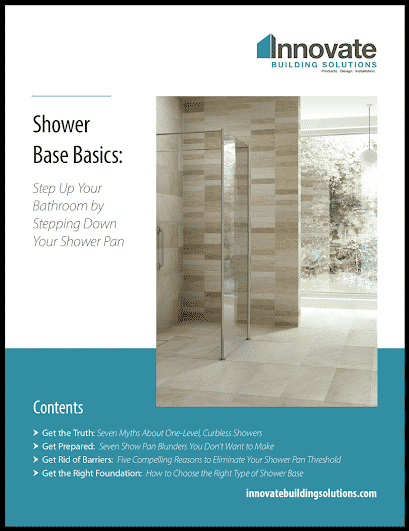 Get Our Ultimate Shower Base Guide!
Step Up Your Bathroom by Stepping Down Your Shower Pan!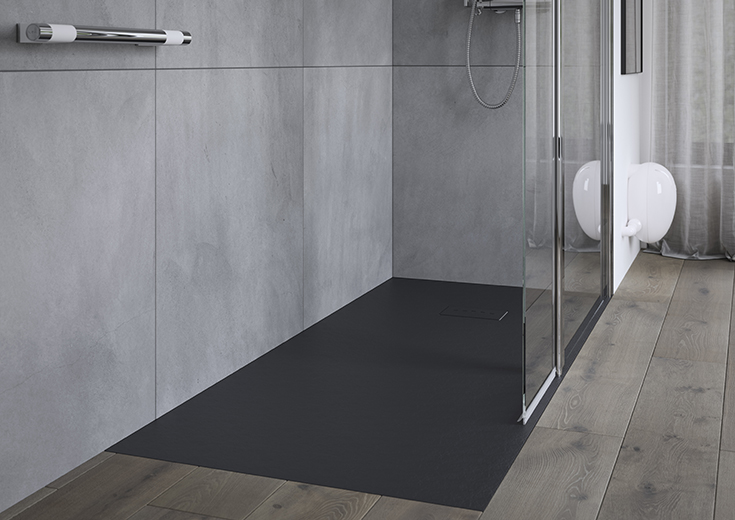 Advantage #6 – Reversible pans DO NOT require an expensive tile-setter
Although there are reversible pans which are used for tile showers, most reversible pans are made in grout free surfaces which are simpler to clean and less expensive to install.
Advantage #7 – Reversible pans can be used with any type of shower surround including tile, stone, or grout free wall panels
None of us like our options limited. And when it comes to shower wall surrounds you DO NOT want your shower pan to limit how you style your wall surrounds. And after you've installed the flanges around the reversible pan, feel free to use tile or any type of grout free wall panels (and one cool grout free shower surround option is the laminate shower wall panels shown below).
Bottom line, your wall choices ARE NOT limited by your shower base choice.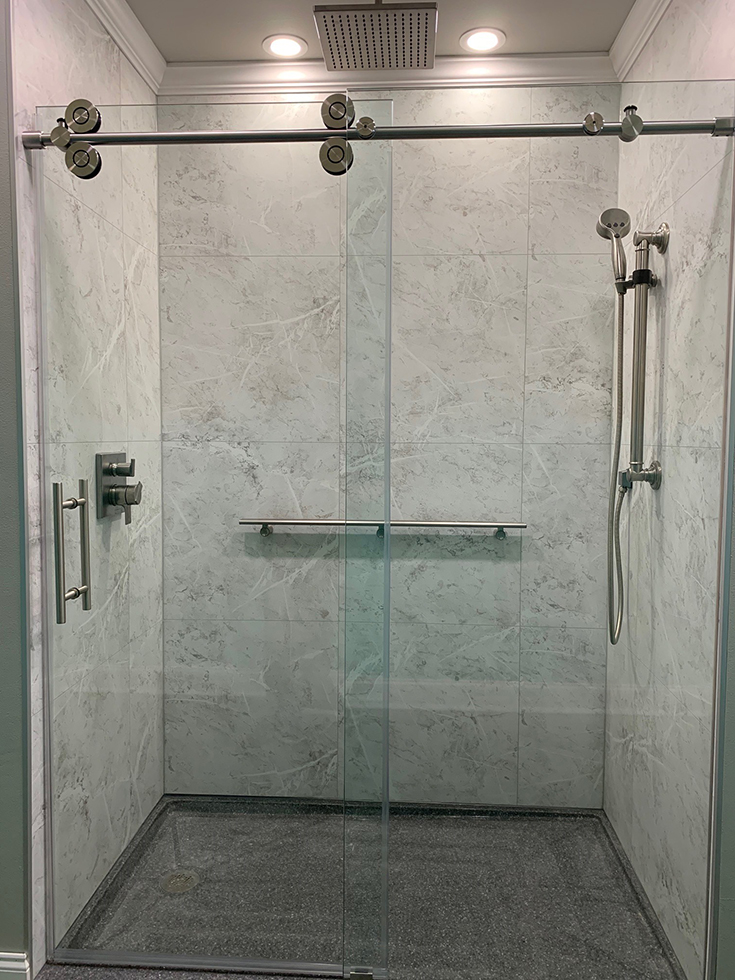 Advantage #8 – The flanges provided with a reversible pan WILL NOT be prone to breaking in shipment
The most fragile part of a traditional 'flanged shower pan' are the thin flanges along the sides. One minor ding in shipment can be all it takes for them to break along the sides of your once-beautiful pan.
Flanges which are not pre-attached (as is the case with reversible shower pans), are better protected from cracking during shipment (separate flanges are usually packed inside the pan during shipment).
And while there are many advantages of reversible shower pans, you'll want to look at the downsides as well as the upsides to make a smart decision. Here are a couple of disadvantages you should be aware of.
Disadvantages of Reversible Shower Pans
Disadvantage #1 – The shower pan flanges must be installed by you – or your contractor
Yes – there is extra work (although it's not too time-intensive) to install the flanges which come separate from the shower pan on a reversible shower. Usually, these flanges are screwed into the pan or they're siliconed to the edges of the base.
It's not time-consuming, but as they say, "time is money!"
Disadvantage #2 – You'll have a hard time finding reversible shower pans in home center stores
While you may like shopping at your local home center for shower and bathroom supplies, you'll likely find they don't stock reversible shower pans. Since they're a newer concept in this country, most home centers only stock 'traditional' pans with flanges.
However, it's not difficult to find these pans if you call a specialty shower pan retailer or wholesaler. And the big advantage of calling one of these companies (and I'll admit this is a shameless plug for our company), is they're shower specialists. They'll not only be able to help you with your best choice in shower pans, but also grout free shower wall panels and glass shower doors for the base as well.  
So, is a reversible shower pan right for your project? How can I (or my team) help you?
After reading this article, do you think reversible shower pans are a smart option for your shower remodel?
If you have questions about reversible bases (or any type of shower pan), grout free shower wall or glass shower doors call me (or my team) at Innovate Building Solutions at 877-668-5888 or click for a Free Design Consultation.
And if you're looking for a Cleveland bathroom remodeling contractor, our Bath Doctor division would love to help. Call 216-658-1270 or click for a Free Estimate
Lastly, if you're a remodeler or builder and want advice on remodeling products, industry trends, marketing and sales tips to grow your business (and cut day to day hassles), read my newest blog – Innovate Builders Blog. It's packed with ideas you can use now to make money in your business. Click here to Sign Up for the Innovate Builders Blog. If you'd like to learn how to become a shower wall panel dealer call and ask for Mike at 888-467-7488.
To connect on LinkedIn, go to @MikeFotiLinkedIn.
Thanks for reading,
Mike