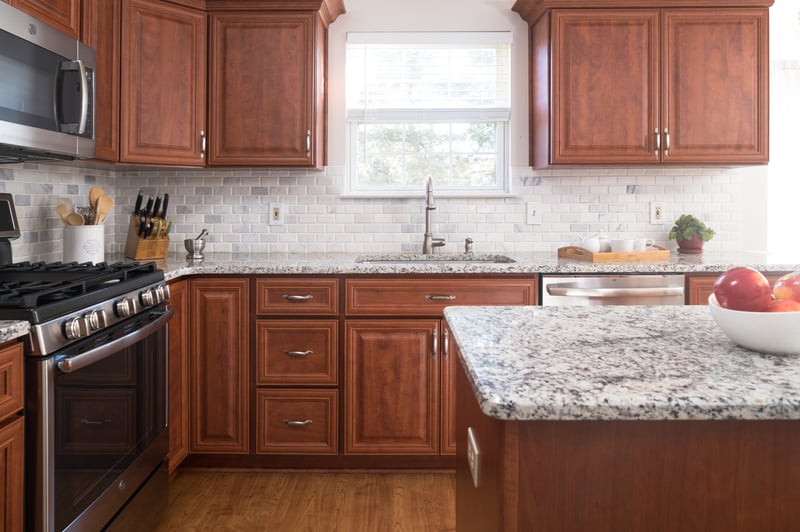 Kitchen cabinet door styles can often be overgeneralized without providing homeowners with a full-picture understanding. This certainly seems to be the case with raised panel cabinets and their flat panel counterparts. In this article, we highlight these two common cabinet styles – explaining their differences, as well as the pros and cons of each – without emphasizing current trends.
PHOTO CREDIT: Christian Giannelli Photography, 2020
Raised and Flat Panel Cabinet Doors Explained
PHOTO CREDIT: Christian Giannelli Photography, 2020
Some might say that raised panel cabinet doors are more "traditional," while flat-panel options like shaker-style doors are more "timeless." We find both kitchen cabinet door styles stand the test of time and work well in a variety of kitchen design styles.
While we can go on and on about the tenets of timeless design, only you know what's most appealing to you. Your personal design preferences and style are the most important aspect to consider for your new kitchen. So, one essential question to ask before starting a kitchen remodeling project is: what design style do you think you'll enjoy for decades to come?
Case in point: Shaker-style cabinetry is trending right now because they're popular among homeowners interested in creating a transitional design look or honoring the classic looks of a farmhouse kitchen. But, keep in mind that all kitchen design trends ebb and flow, and every kitchen is different.
Raised Panel Cabinets
For centuries, raised panel cabinetry was considered the most luxurious cabinet door option because the extra ornamentation has a furniture-quality to it and craftsmanship typically comes at a premium. So, raised panel cabinet doors tend to be appreciated by those who love gorgeous woodwork and detailing.
Raised panel doors were incredibly popular during the 1960s and 70s, but then started to fade into the proverbial backdrop with the prioritization of quick builds over custom homes and simplicity above intricate décor.
Raised Panel Cabinet Door Features:
The panel of the door is elevated higher than the frame
A richer, more traditional look
Works well with woodgrains because they highlight the inherent beauty of the wood
Raised panels can have arched or curved details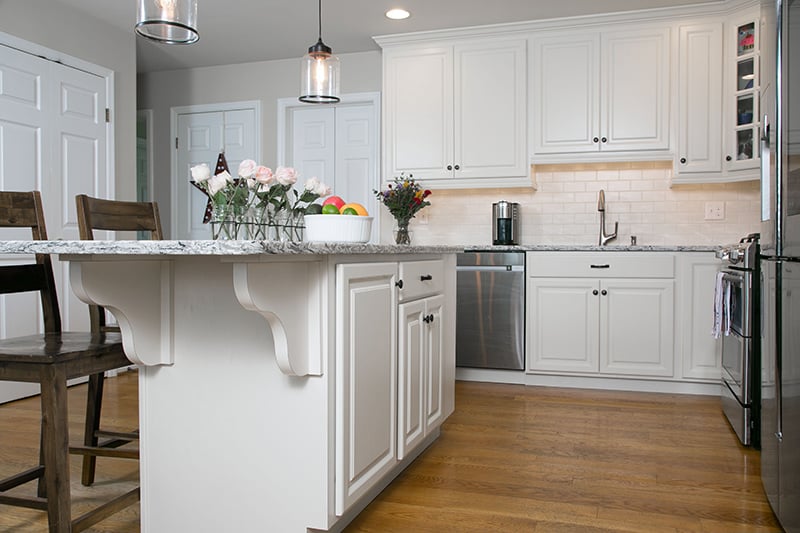 The Pros
For those who love raised panel cabinet doors, the pros include their artistic look, warmth and the elaborate or luxurious look they offer a kitchen or living space. Raised panel doors are in the same category as coffered ceilings and gorgeous crown molding. You'll love flexing your design muscles as you comb through all of the elegant options.
The Cons
If you want to use raised panel cabinets in your kitchen be mindful that the extra edges, ridges and details require slightly more effort to clean, polish, and maintain. It's also important to balance embellished cabinets with simplicity so your cabinets don't overwhelm your overall kitchen design. And, finally, raised-panel doors are usually more expensive than flat- or shaker-style cabinet doors.
Flat Panel and Shaker Style Kitchen Cabinet Doors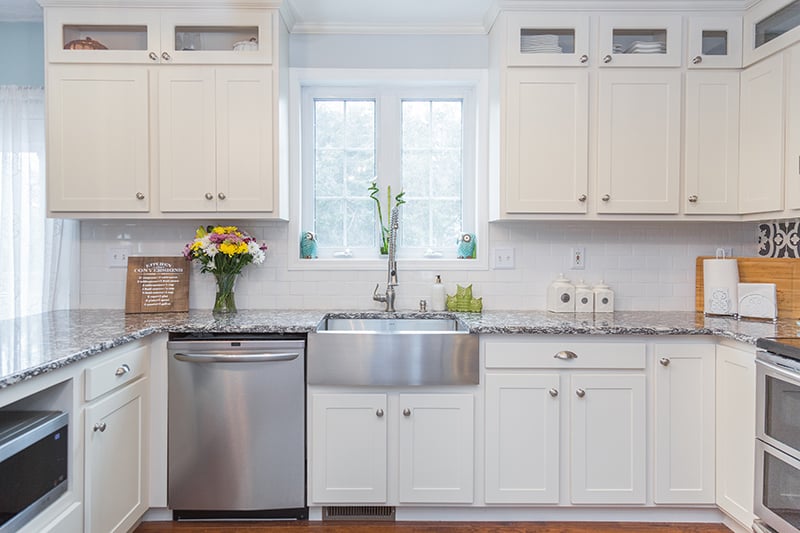 Flat panel cabinets are currently a "hot item" in the kitchen design world due to the growing popularity of modern and farmhouse design trends. But that really explains it all; contemporary and farmhouse design trends are technically opposites. The former is very "now" while the latter is more Traditional, but flat panel cabinet doors complement both styles.
This is just a reminder that your personal style preference matters more than any trend. And it's noteworthy to mention that cabinet hardware such as cup pulls can add their own layer of dimension to any kitchen design.

Flat Panel Cabinet Door Features:
Flat cabinet panels with no border or, as in the case of shaker-style options,  the doors may have a simple raised border

Lack of ornamentation or intricate detail
Straight lines and right angles

They support a clean and streamlined aesthetic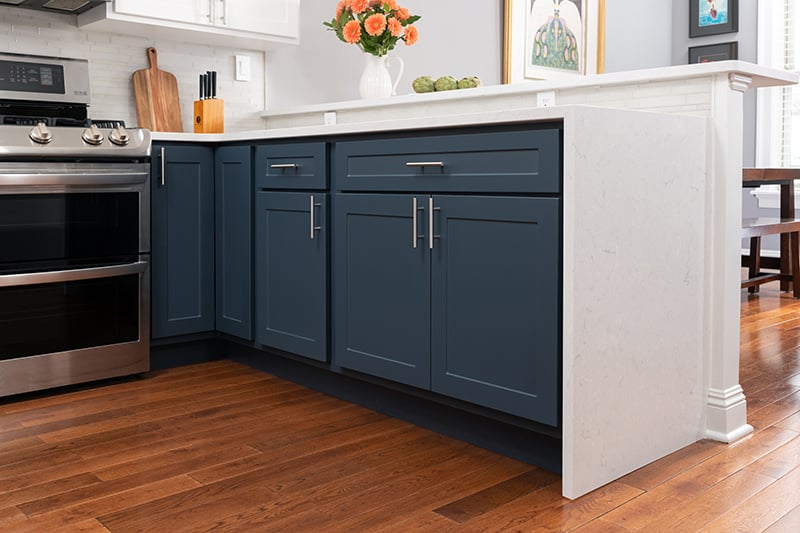 The Pros
Fans of flat panel cabinet doors love the simple, streamlined look and the fact that they are easier to clean with less details to catch dust and grease. Also, this flat panel style cabinet doors tend to cost less than raised panel options.
The Cons
Some homeowners complain that finger and dog nose prints are easier to see on flat-panel doors, despite being easy to clean and maintain. Their simplicity can lead to an overall flat look and feel if you don't add visual interest in other areas of the kitchen design. While stained options are available, flat panel cabinets tend to look their best in solid colors. So, if you prefer the look of woodgrain, a simple raised panel might be a better choice.
Consider your own personal style
Let Kitchen Magic help you tap into your personal design style. Our kitchen design consultants will always honor your personal preferences in every other aspect of your design. 
If you're ready to change how your kitchen looks and functions, our free design consultation is fun and informative! Just give us a call at 866-525-7999, or click here to schedule your free design consultation with Kitchen Magic right now! 
Want more design inspiration? Download our 2022 Kitchen Lookbook – it's completely free and full of our most popular kitchen remodels!