You're not one to jump on the 'latest fad,' but the use of matte black in new and remodeled bathrooms (and homes in general) has caught your eye.
You've seen the matte black windows with the white lap siding in Modern Farmhouse designs cropping up like wildfire.
You've seen matte black handles and shower heads in uber-cool contemporary bathrooms. These handles feel like they're literally popping out from the wall.
And you've seen matte black shower pans which won't show dirt, unlike your 'impossible-to-clean' fiberglass one piece surround you're fighting with today.
However, despite how striking these matte black bathroom products are, you still have reservations.
You wonder if this 'matte black thing' is a passing fad?
You wonder if these handles, fixtures, and bases will be a pain to clean?
You wonder if they'll fade over time, or you'll get sick of them?
And if we're being real, like every decision you make in a new bathroom (whether it's in new construction or a remodel), there are pros and cons with whatever choices you make.
And to make an informed decision about matte black bathroom products you need to know the advantages and disadvantages of them before you go 'all in' and plunk your money down.
And this is exactly where this article will help you. I'm going to dish out the pros and cons of matte black fixtures, hardware, trims, and shower bases. At the end I'd love your opinion if matte black is a must – or whether it's trend you want no part of.
Pros (advantages) of buying matte black hardware, shower pans and trim
Pro #1 – Matte black showers and trim are available in many fun designs   
A matte black shower door finish used to be a specialty option, but this is not the case anymore as it's grown to 10% of all shower door finishes used according to Fleurco, a top manufacturer of glass shower doors. And with inventive patterns like this grid style matte black sliding shower door, it's easy to see why they're becoming so popular.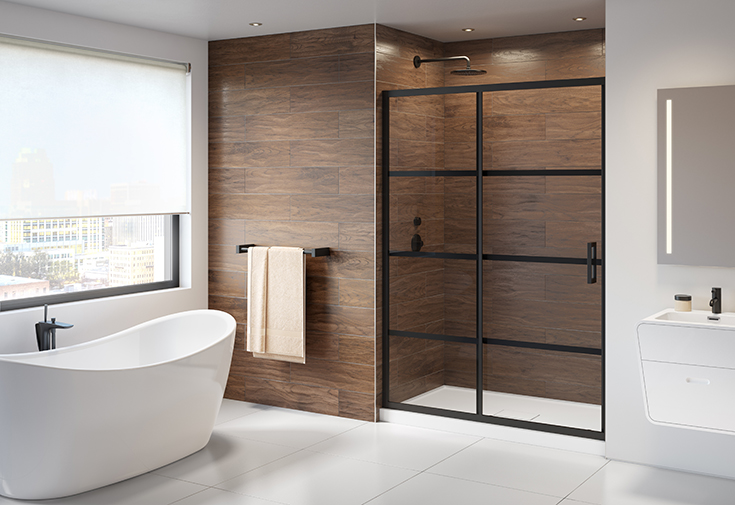 And when the market is showing a preference to a finish, smart manufacturers fill the need with fun new product offerings.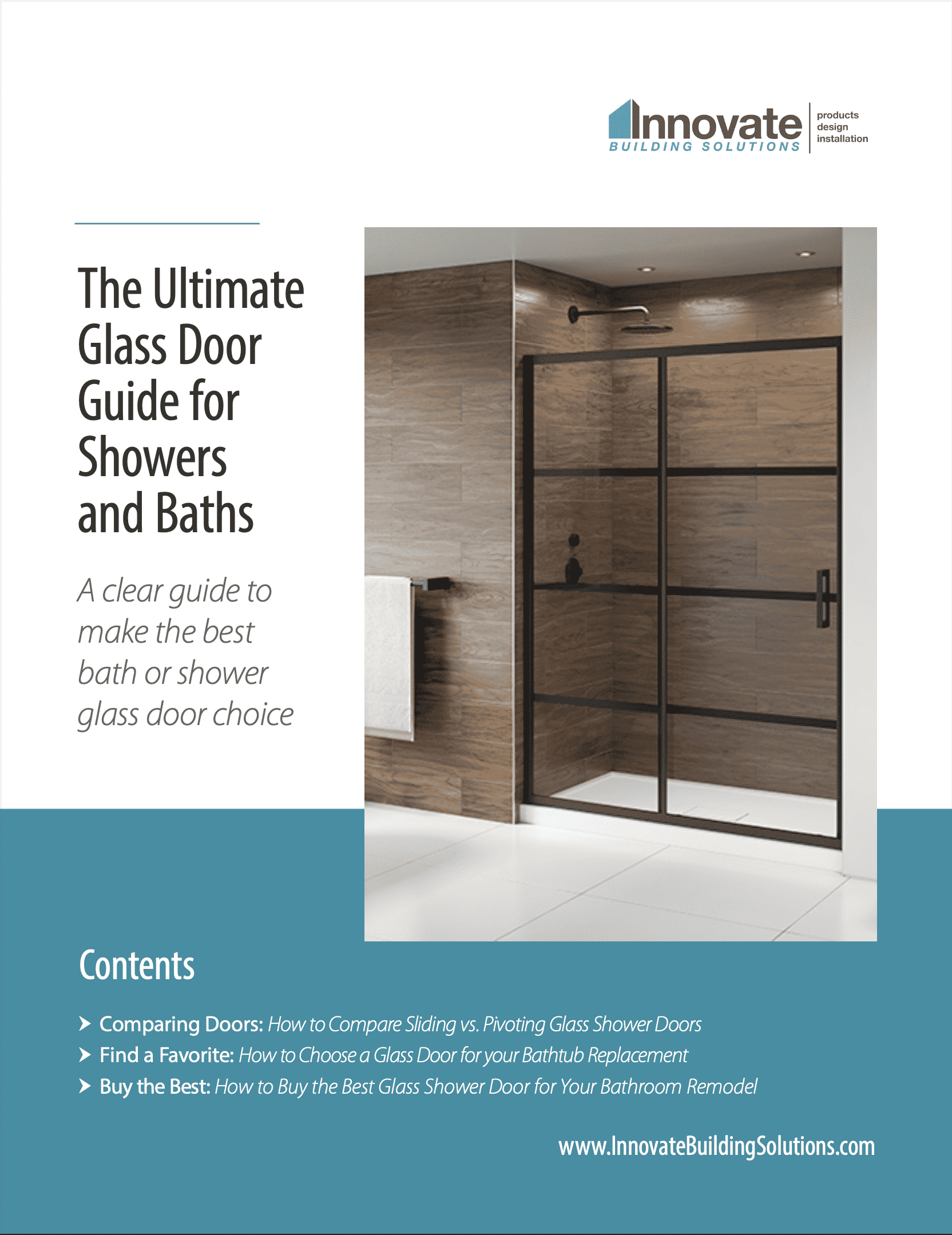 The Ultimate Glass Door Shower Guide
A clear guide to making the best bath or shower glass shower door choice
And if you don't think the shower door above is cool, check out the handles on this bathroom vanity cabinet below.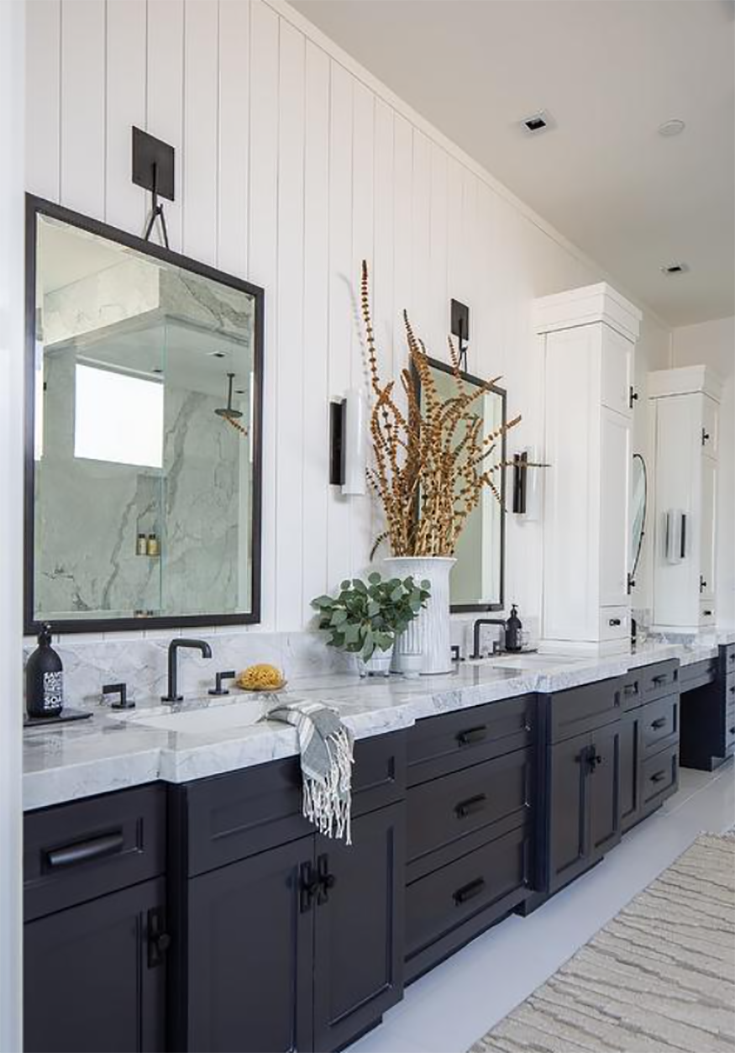 Image Source: www.decorpad.com
Pro #2 – Matte black is bold
If your bathroom suffers from PBD (and if you don't know what PBD is – it's Production Builder Disease which is the result of 'generic homes' built on a budget), you want to do something, so your bathroom isn't the EXACT replica of your neighbors.
And if you're simply trying to do a cost-effective refresh without an expensive full-scale remodel, you could replace your fixtures and handles for a quick update. After all handles and fixtures are the 'jewelry' of your bathroom. And matte black finishes add contrast and pizzazz to a generic space.
Get Free Samples!
Click here to request free samples of our Laminated Waterproof Shower Wall Panels.
Or if you're worried about your bathtub being dangerous for a family member to enter, you could do a bath to shower conversion remodel with grout free wall panels and matte black shower trim like you'll see in this no-grout subway tile wall surround.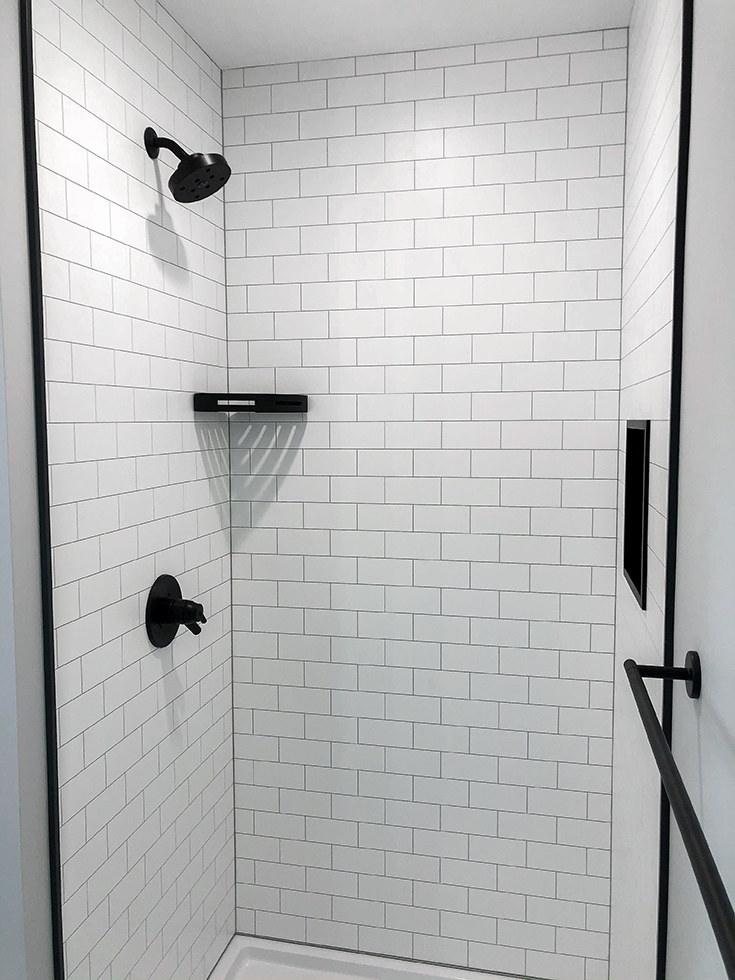 You can add punch to your bathroom with matte black without spending big bucks!
Pro #3 – Matte black is like your 'little black dress' (OK – just referring to the gals here). It goes with everything in your bathroom
If you struggle matching colors, textures, and patterns you're not alone. This is a big reason so many people live and die with the recommendations of their interior designers! Making sure nothing clashes – AND creating a bathroom design which works, is tough.
However, if you want one way to be confident, to know you're doing the right thing, then use matte black. It goes with everything. It makes selections simpler.
Pro #4 – Matte black doesn't show water spots like chrome (and hides dirt)
While chrome is still the most popular finish in bathrooms (because it's the cheapest), it also has the downside of being a 'spot-magnet.' And one key feature about matte black is it hides water spots and dirt.
And if you're the 'lucky one' (sarcasm intended) who gets to clean the bathroom, you know you want simple to maintain bathroom products. Matte black (along with brushed nickel) are smart finishes if you want tame spots – and not show dirt.
Pro #5 – Matte black goes with many design styles
Whether you're into a vintage look, a Modern Farmhouse, or Minimalist design – matte black hardware, trims and shower pans are 'in.'
Get Free Samples!
Click here to request free samples of our Laminated Waterproof Shower Wall Panels.
It's this design versatility which has caused it to see dramatic growth in the last 5 years (and is still trending up). Check out the matte black trim with these black hexagon grout free wall panels.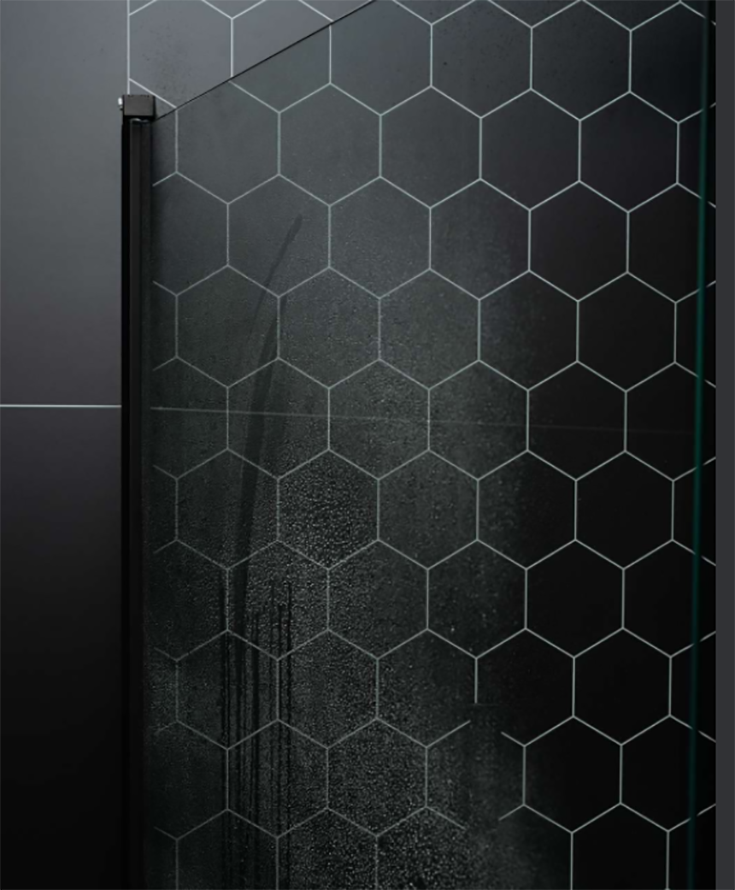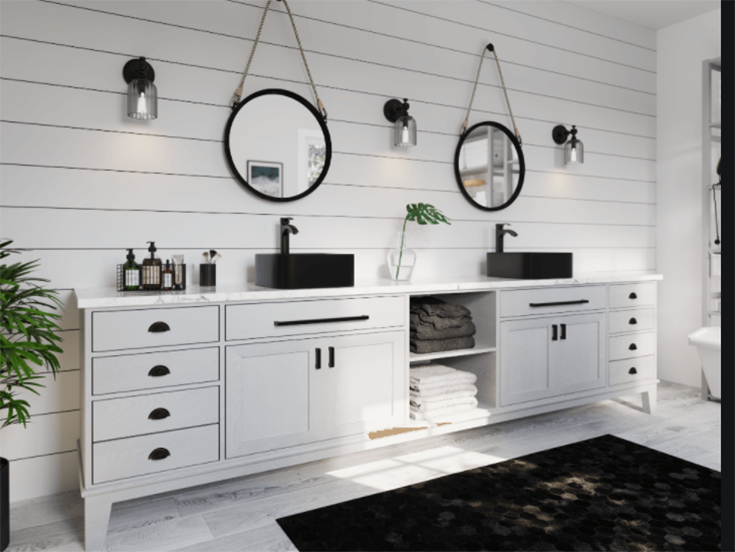 Image Source: www.mrdirectint.com
Pro #6 – Matte black is simple to find
Years ago, when matte black was just coming onto the scene it was hard to find in stores and lead times were long. This is no longer a problem. Matte black is common and often carried as a stock item.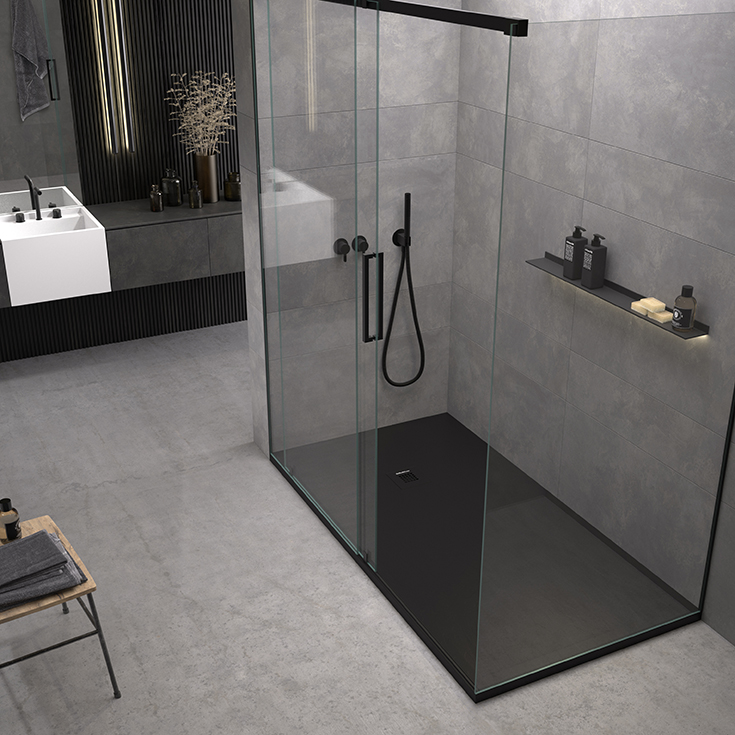 Cons (disadvantages) of buying matte black hardware, shower pans and trim
Con #1 – You need to be more careful cleaning
Since matte black finishes around shower wall panel trim or shower door hardware are made with a 'powder coating' or an 'electroplating' process where the finish is applied onto steel (note – the electroplating process is higher quality) you need to be more thoughtful about what you use to clean them to not dull the finish.
Mild, soapy water is recommended. Stay away from chemicals, bleach, and wax-based cleaners to not mar the finish.
Con #2 – Matte black finishes are more expensive than chrome and brushed nickel
Although the costs of matte black trim have gone down as the volume has gone up, you'll still pay more for a matte black shower door or matte black hardware vs. its ever popular 'brother' chrome.
So, if your budget is uber tight, shy away from matte black bathroom products.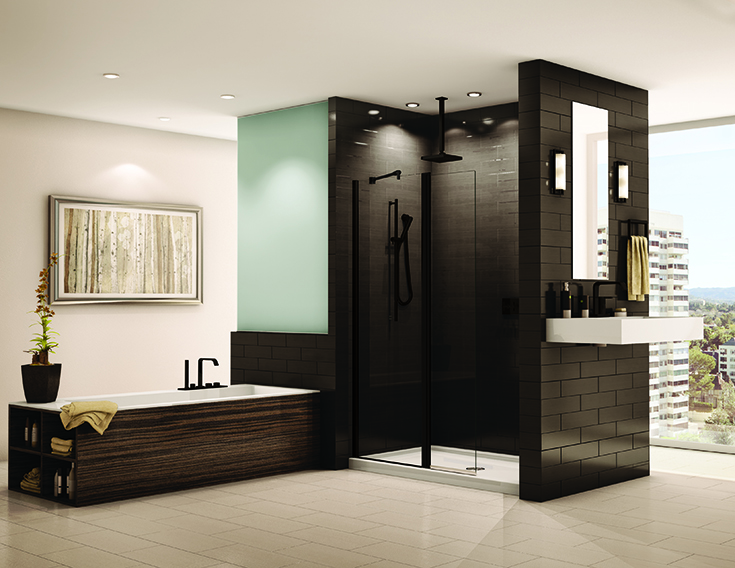 Con #3 – Matte black shower pans and matte black handles are 'controversial'
OK – these trims and matte black shower pans ARE NOT as controversial as whether you lean 'red or blue' – but know some people LOVE, LOVE, LOVE the look, but others hate it.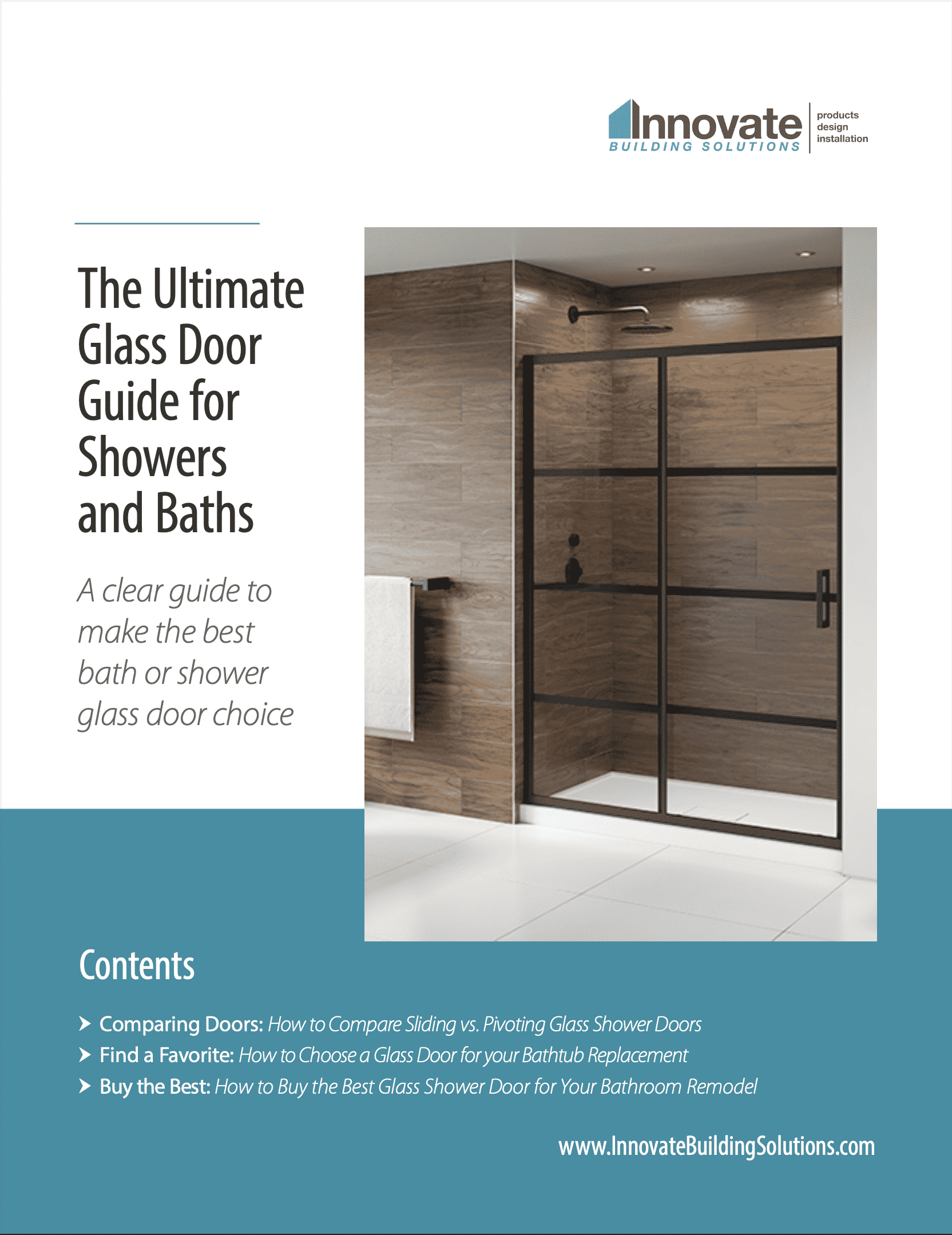 The Ultimate Glass Door Shower Guide
A clear guide to making the best bath or shower glass shower door choice
So, if you're remodeling a 'fix and flip' property or planning to move in a year or two, you may be better to 'play it safe' and go with chrome or a brushed nickel shower door and a plain white shower pan.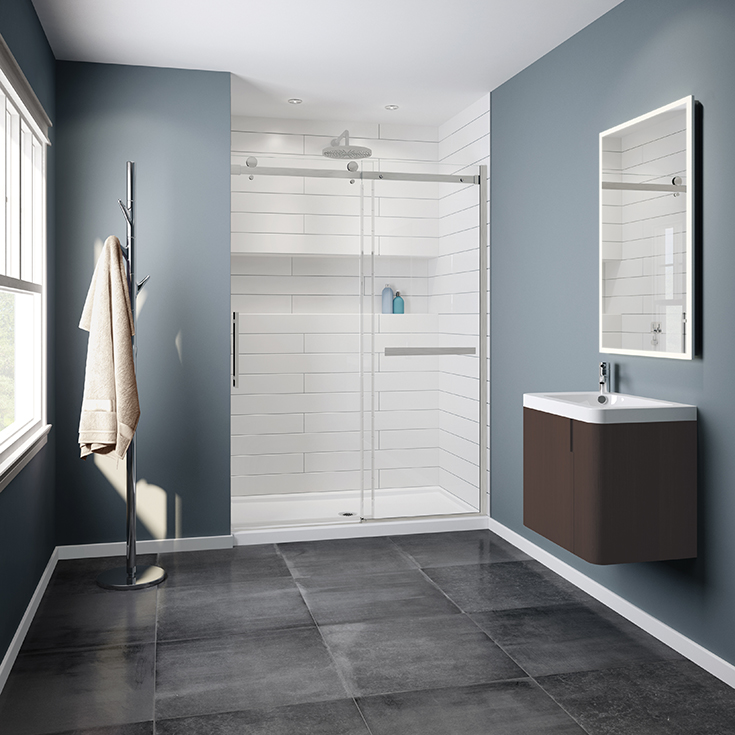 Although I will tell you if you're on the fence about selling soon, you can always go with matte black vanity drawer handles because they're simple to replace if you want to make the bathroom less 'stylized' if you decide to sell.
Con #4 – Matte black 'stands out,' for better or worse
As mentioned in 'pro #2' above, matte black – no matter how you slice it -is bold. It stands out. Matte black shower pans, trim or fixtures command attention.
And if you want your focal point to NOT be the hardware, or trim or the base, you may be best to choose chrome or brushed nickel.
Con #5 – Scratches on matte black fixtures will be easier to see than chrome or brushed nickel
Since matte black finishes are created through a 'powder coating' process (where dried powder is coated onto the surface electrostatically and then heat applied to finalize the process) or through an 'electroplating' process (which uses electricity to add multiple layers of finish applied over steel), if you get a deep gouge in the trim the steel underneath will stick out like a sore thumb.
If you're looking for a finish which 'blends well' with scratches – chrome or brushed nickel are better options than matte black.
So, if you're looking to do a boy's bathroom (sorry to be sexist here – but my wife and I raised two boys and TLC and THEIR bathroom WERE NOT used in the same sentence!), stay clear of fun finishes like matte black.
Con #6 – Matte black can fade over time 
If you buy the less-expensive powder coated matte black trim you may see fading over time. This is something to keep in mind.
So, are matte black hardware, shower pans, and trim for you? How can I (or my team) help you?
After reading this article, do you think matte black shower pans, trims, and hardware are best for your bathroom remodel or new home?
If you have questions about matte black shower pans or trim surrounding grout free shower walls or matte black glass shower doors or need pricing call me (and my team) at Innovate Building Solutions at 877-668-5888 or click for a Free Design Consultation.
And if you're looking for a Cleveland bathroom remodeling contractor, our Bath Doctor division would love to help. Call 216-658-1270 or click for a Free Estimate
Lastly, if you're a remodeler or builder and want advice on remodeling products, industry trends, marketing and sales tips to grow your business (and cut day to day hassles), read my newest blog – Innovate Builders Blog. It's packed with ideas you can use now to make money in your business. Click here to Sign Up for the Innovate Builders Blog. If you'd like to learn how to become a dealer of unique wall panels, shower pans and glass shower doors call and ask for Mike at 888-467-7488.
To connect on LinkedIn, go to @MikeFotiLinkedIn.
Thanks for reading,
Mike