A shower pan will likely NOT be the most exciting feature of your bathroom remodel. However, when you think about it your shower pan is the foundation of your shower. It's something you don't think about …until it fails. Then its too late. Then 'the fix' is painful and expensive.
Shower pans AREN'T sexy. Shower pans ARE important. Shower pans will keep you SAFE…if you make a smart selection.
So, now that your spouse (or significant 'utter') has finally gotten their way and you've agreed to remodel the shower (or your tub/shower) you need to figure out the right shower floor pan.
Perhaps you want to upgrade your tile shower floor with tons of teeny-tiny grout joints you've been fighting (and trying to keep clean) for years.
Or you want to find a shower which doesn't make you cringe every time you see your spouse struggling to step into it.
Or you want to replace the cheap fiberglass tub/shower which is yellowed, dirty and disgusting. While this base was 'mass produced' for everyone, it's tall threshold is an accident waiting to happen.
You DO NOT want to repeat the mistakes of the past. You DO want a shower pan which won't leak or be a maintenance hassle or a safety concern. You want a base which will add style at a price you can afford. Now that's a concept!
You're debating choosing (A) a low profile grout free shower pan or (B) building a ceramic tile shower floor or (C) using a higher curb pan. You're not sure which is best. The web sites you've visited have promoted whatever they're selling. It doesn't take a rocket scientist to know they're simply pitching products. They're not giving you the pros and cons of your top 3 options. They simply want to make a sale.
Simply put – you want the straight scoop to choose the right shower pan for your family.
It's my goal to give you the 'straight scoop' (as opposed to the crooked scoop) and to point out the advantages and disadvantages of low-profile grout free shower pans vs. tile (or higher curb) shower bases.
So, without delay let's look at the pros and cons of grout free low curb shower pans. At the end I'd love to hear where you're leaning after reading this article.
Pros (advantages) of buying a Low-Profile Grout Free Shower Pan
Pro #1 – You get rid of evil grout joints  
The only positive about grout joints is when they're someone else's grout joints and THEY have to maintain them. Sure, a tile shower looks wonderful when the contractor finishes the job. The problem is YOU (especially if you're the 'you' in your family who gets to clean it) are the one with the scrub brush cleaning the joints and fighting mold and bacteria which comes with them…year after year after year.
No matter what type of grout free shower pan you choose (more about this in 'pro-5' below), they all have one thing in common. They allow you to (as New Yorkers would say) 'fuggitabout' grout joints! This is one HUGE reason to go with a grout free shower pan.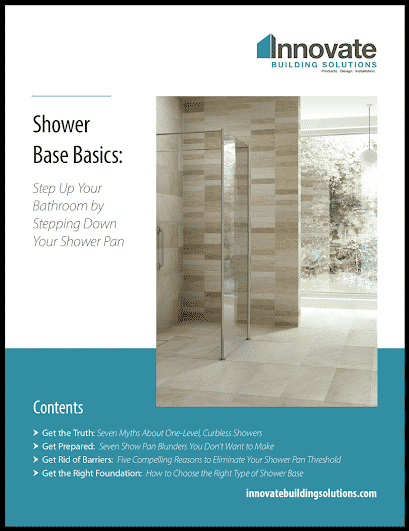 Get Our Ultimate Shower Base Guide!
Step Up Your Bathroom by Stepping Down Your Shower Pan!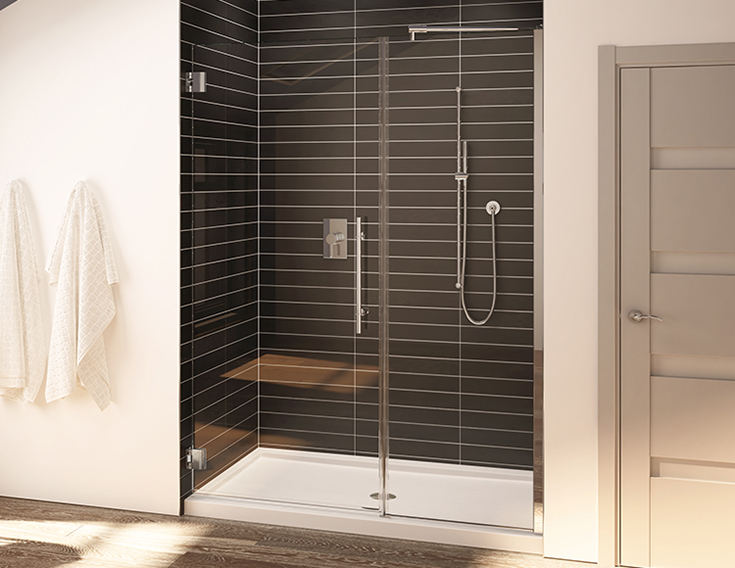 Pro #2 – You can get cool designs (like marble or terrazzo patterns) with ZERO maintenance– yes you heard that right.
Most people don't realize there are designer options in grout free shower pans. And if you don't believe me check out this durable stone matte black marble shower pan. It not only will 'knock your socks off' with style, but it's not super-expensive like a real marble shower.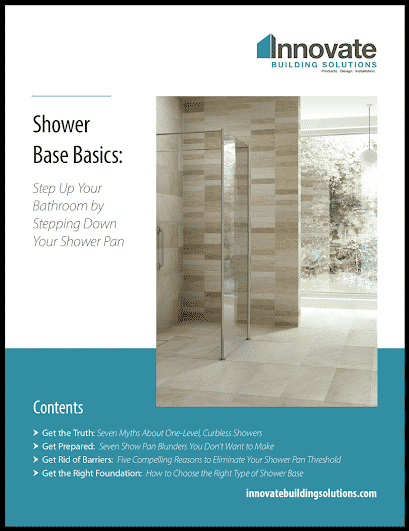 Get Our Ultimate Shower Base Guide!
Step Up Your Bathroom by Stepping Down Your Shower Pan!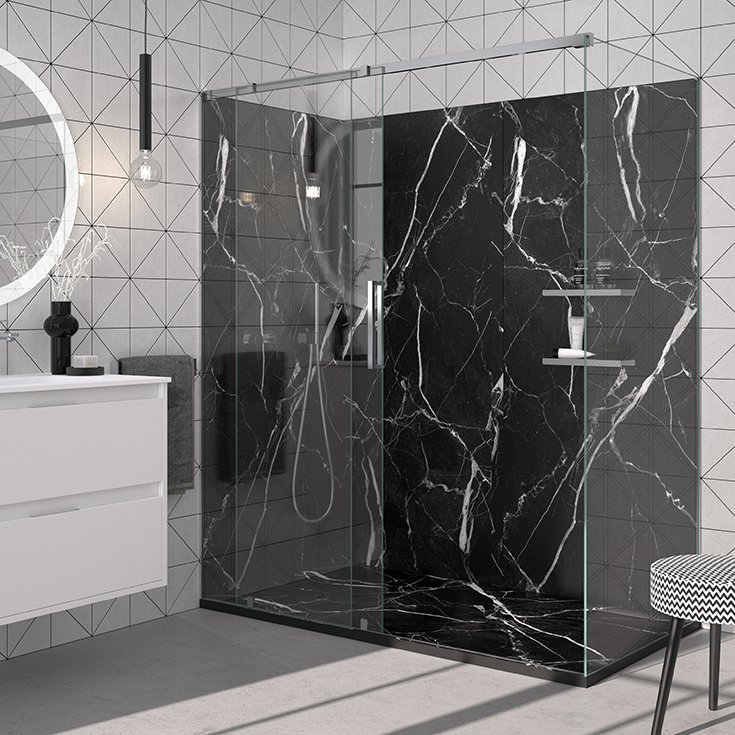 Or if you don't want the weight of a heavy stone shower base, choose a decorative PVC pan. They're made in standard or custom sizes. They're simple to work with. They can be customized. They aren't heavy to bring in the door.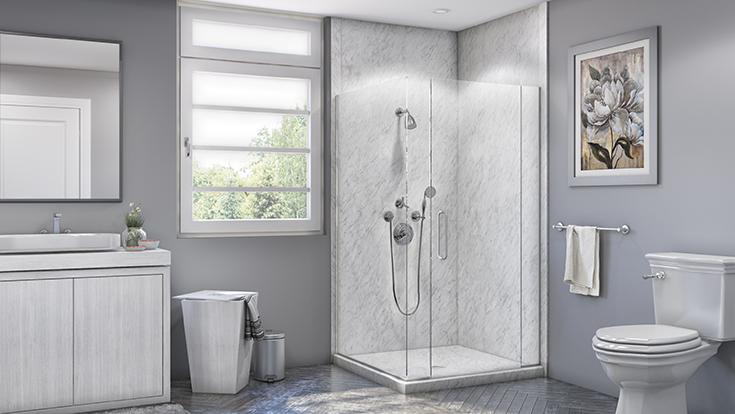 Pro #3 – You don't need to worry about the pitch of the shower pan
You HATE, HATE, HATE how your existing tile shower leaves pools of water. Unfortunately, it wasn't built right the first time, and there's no simple way to fix it without tearing the base up and starting over.
Well – if you're battling a tile shower which 'pools up,' you'll enjoy knowing low profile modern grout free shower bases are pre-pitched at the factory. Say 'bye-bye' to pooling water and worrying about leaks caused by standing water.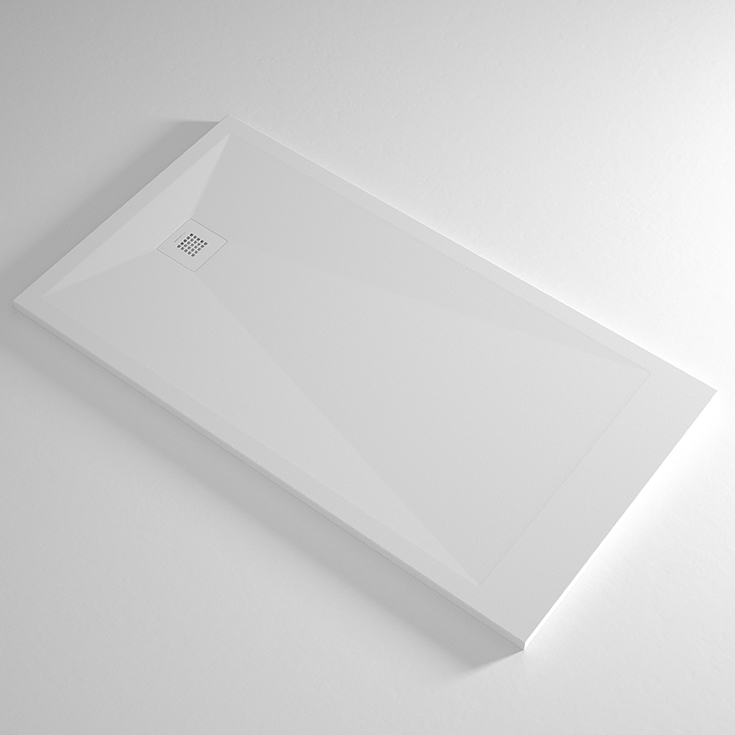 Pro #4 – You can buy a reversible low-profile pan in matte or gloss finishes if you're not sure where to locate the drain  
If you're unfamiliar – a 'reversible shower pan' is a base where the flanges (which are needed for waterproofing) around the edges of the pan are added during installation. With these pans you have the flexibility of putting your drain on either side by rotating the base.
There's no need to worry if you bought a pan with the correct drain location and you won't be forking over restocking or shipping fees because you bought a pan with the drain in the wrong spot.
Pro #5 – Grout free shower pans are available in multiple low maintenance materials
While most grout free shower pans you'll see advertised are made of fiberglass and acrylic, these are by no means the only options.
You can choose a low profile solid surface shower pans in multiple colors and patterns.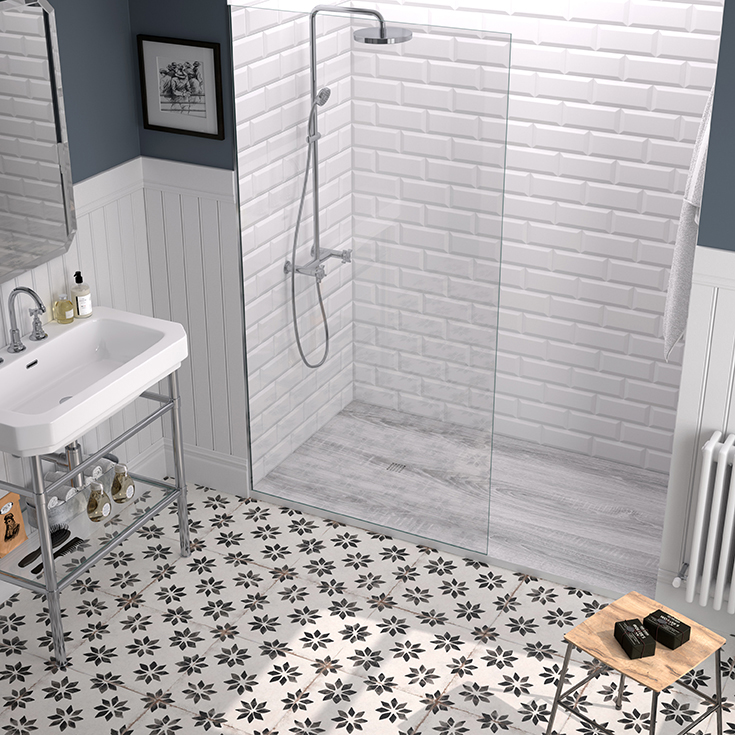 Or buy a low-profile solid surface pan made specifically for a curved glass block walk in shower.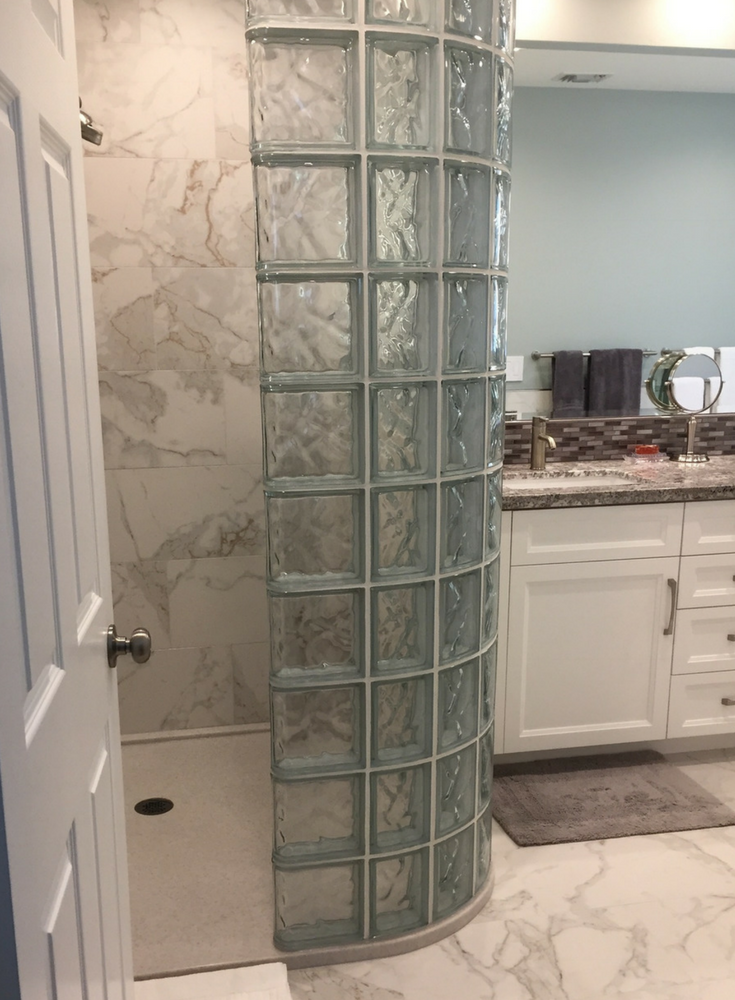 Or choose a PVC shower pan which can be customized for your crazy-shaped shower.
Or how about a reversible glass reinforced plastic pan with a colored top surface, perfect for a roll in shower.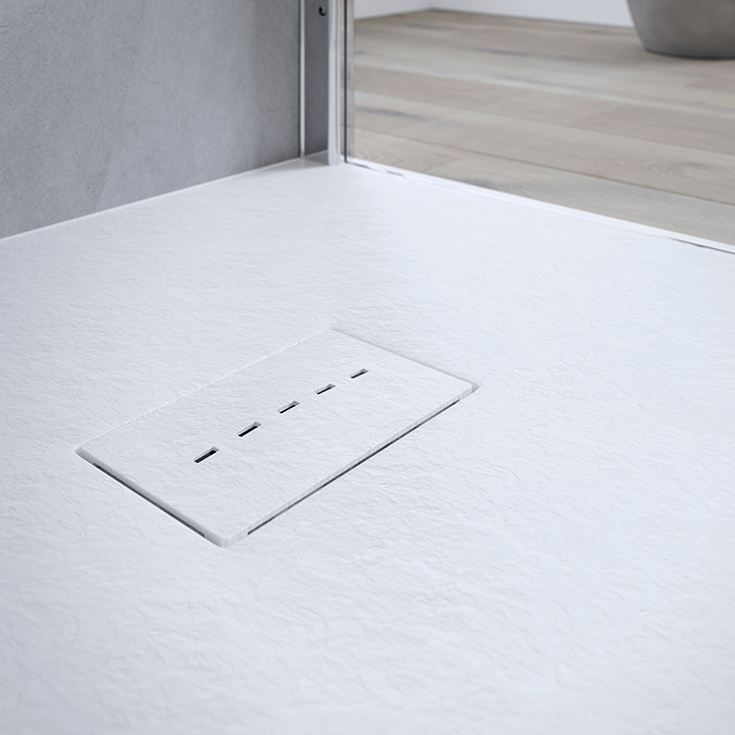 Pro #6 – Grout free pans are (usually) less expensive than professionally installed tile showers
 Tile setters are as scarce as a needle-in-a-haystack. And since they KNOW they're hot (and a scarce commodity), they're charging a 'pretty penny' (or unpretty if you're footing the bill) to do your job.
However, it's nice to know installing a grout free shower pan can save 1 to 2 days labor vs. an intricate tile shower pan. And since THEIR TIME ('er your contractor) is YOUR MONEY – getting a grout free shower pan can be a win for your wallet or a prayer for your purse.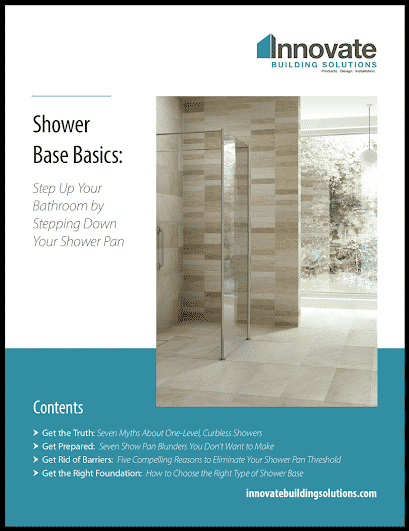 Get Our Ultimate Shower Base Guide!
Step Up Your Bathroom by Stepping Down Your Shower Pan!
Pro #7 – You can get grout free wall panels to go with your grout free shower pan
You've said if it's the last thing you'll do you're not going to put up with (or maintain) tile grout joints again. And while you've sworn at those tiny mosaic tile grout joints on your shower pan floor a time or two – the brown, moldy joints between your wall tiles haven't been any picnic either.
Well – you'll be happy to know you can get grout free shower wall panels to go with your grout free shower floor. You'll find solid surface, PVC composite and laminate wall panel systems which add style and reduce maintenance.
Get Free Samples!
Click here to request free samples of our Laminated Waterproof Shower Wall Panels.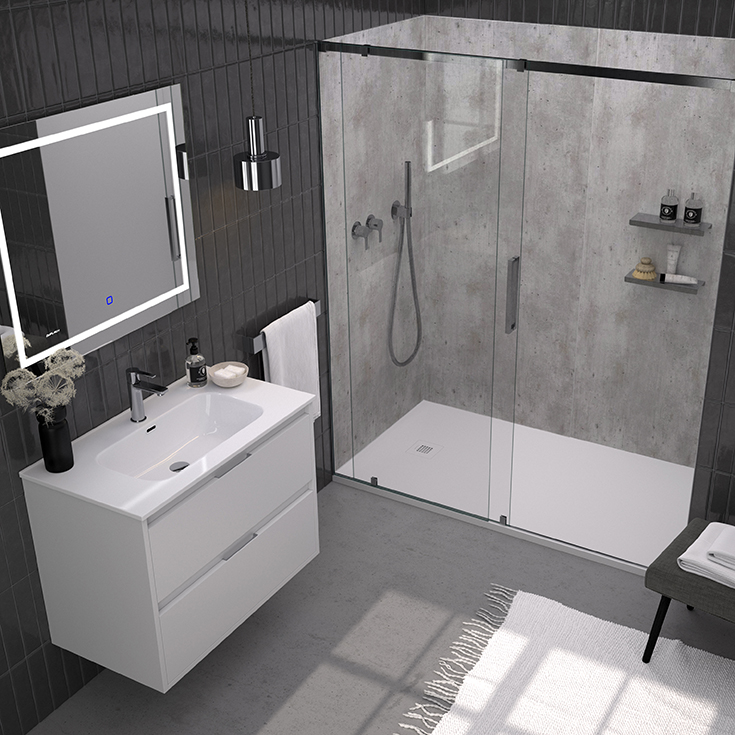 Pro #8 – You'll get a guarantee with a grout free pan
If you're lived through a leaking tile shower floor pan you know it's a nightmare on Elm Street. It's an expensive problem. And with today's tight labor market, it's a lengthy process to get your shower back in order.
And since builders, remodelers, and handymen (or handywomen) don't give a warranty for tile showers (except in rare cases where they're using waterproof tile shower floor pans from companies like Wedi, Schluter or ShowerBase.com), a leaky shower becomes YOUR EXPENSIVE PROBLEM…not your contractor's problem.
If your tile shower floor fails, you'll be the one 'picking up the pieces' and 'dishing out money' to get it fixed.
With grout free shower pans (which are factory made) you'll get a guarantee. This guarantee will be longer if you choose low profile solid surface shower pans vs. cheap fiberglass grout free pans you'll see in home center stores.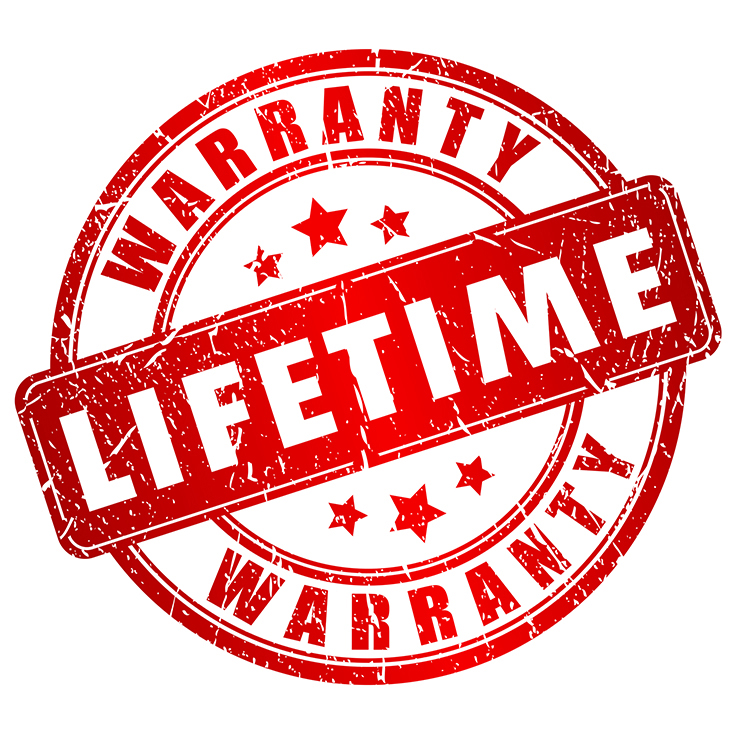 Pro #9 – You CAN get a low-profile grout free shower pans made to size!
This is one fact many people don't realize. You can buy a low-profile shower pan in a custom size, shape, or curb height. These pans are made of various man-made stone mixes or PVC. Get the measurements right before buying. You won't be able to send your custom pan back if you (or your contractor) messes up the dimensions. So, measure twice…and have the factory fabricate once.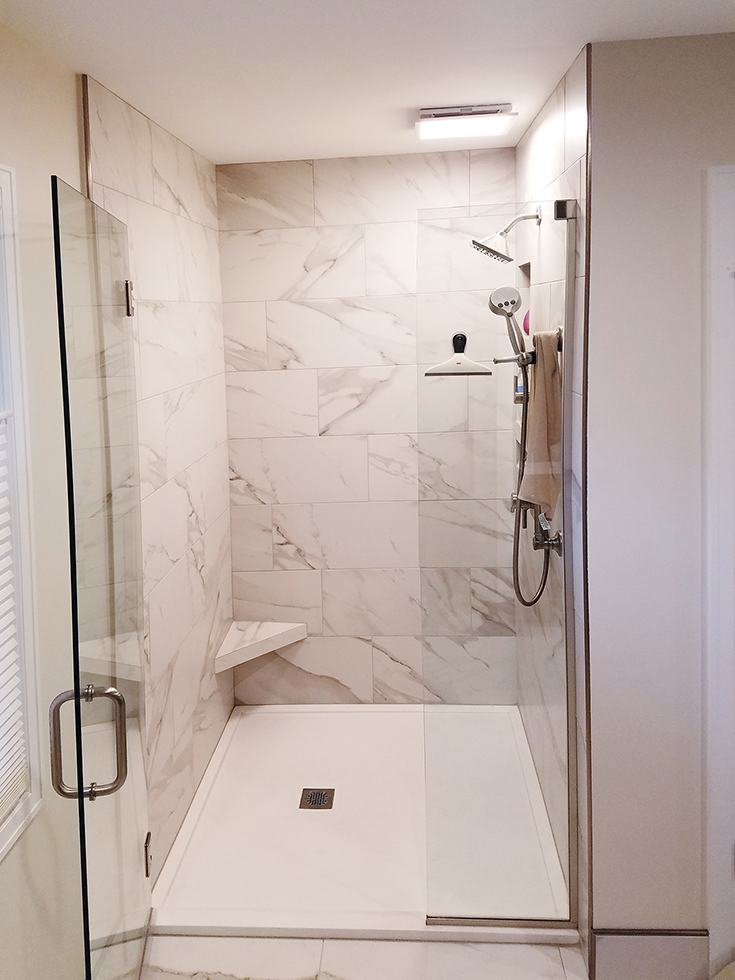 Pro #10 – You can get a completed shower pan shipped to you and ready to install RIGHT NOW
With grout free shower pans (whether they're custom or standard size) they're built as a ready-to-install unit.
Even with waterproof tile shower pans you still have to add the tile to them on site.
If your project needs a quick turnaround (maybe you have a tenant moving in or your desperate to get out of temporary housing), ready to install shower pans without grout are the ticket.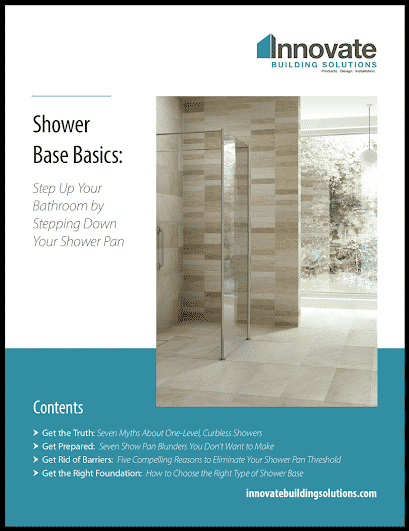 Get Our Ultimate Shower Base Guide!
Step Up Your Bathroom by Stepping Down Your Shower Pan!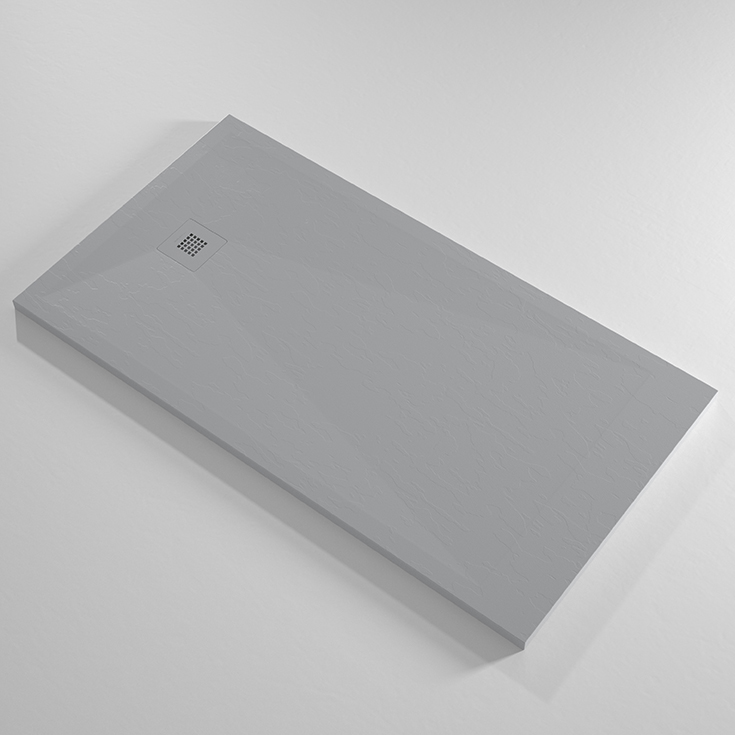 Pro #11 – Low profile pans achieve the 'trifecta.' (1) They're simpler to get. (2) They're simple to maintain. (3) They keep loved ones OUT of the hospital
Low profile grout free shower pans have smaller thresholds (usually 1" to 2 ½" tall). They're safer for a family member whose mobility is limited. However, they (unlike their tile counterparts) are simple to maintain and quicker to get (since many are available 'off the shelf').
And while there are many reasons you SHOULD buy a grout free low profile shower pan, there are advantages of traditional tile showers or bases with 'full height' (4" and higher) curbs as well. Here's 5 cons (or disadvantages) of grout free low profile shower pan which can be good reasons to buy a tile shower or higher curb pan.
Cons (disadvantages) of buying a Low-Profile Grout Free Shower Pan
Con #1 – You won't get the unlimited designs possible with tile
Let's face it, tile can become a work of art. Large format tiles laid in a herringbone pattern. Small mosaic tiles which appear to 'spill' onto the bathroom floor. Unlimited colors, textures, and patterns.
Ceramic tile can be a work of art – in the hands of master tile setter. These intricate looks are only limited by your imagination, budget, and ability to find an experienced tile setter who can bring them to life.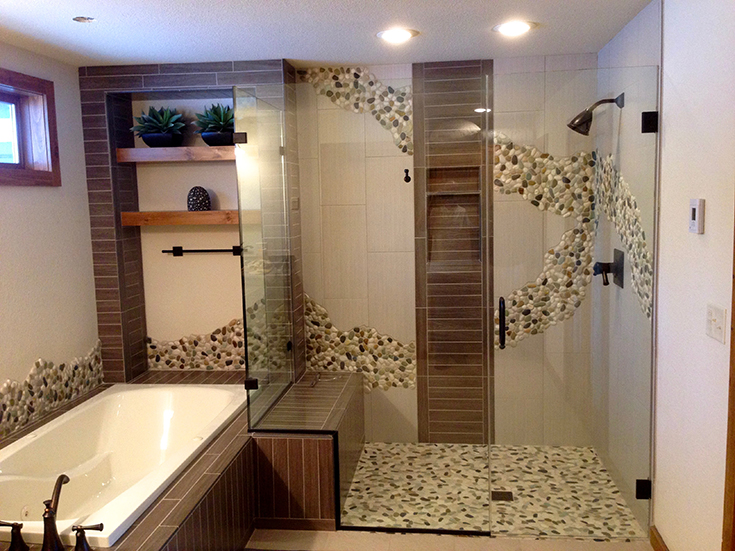 Con #2 – You can build your custom-sized shower 'on the fly' with a tile shower
If you're uncertain the size shower you need – or the exact drain location required – it's a gamble to order a custom low profile grout free shower pan without ripping out the old shower before ordering your new pan. Then you have to wait for your custom grout free shower pan to be built and arrive on the site.
What's nice about tile showers is you can use a component-based waterproof shower system (like Wedi or Schluter) and cut your pieces to fit immediately after the old pan has been taken out. You have the flexibility to 'build as you go' with a component based waterproof tile ready shower pan or by building an 'old school' mortared shower base (Note – I DO NOT recommend using a mortared base due to high failure rates… but they are cheap to do).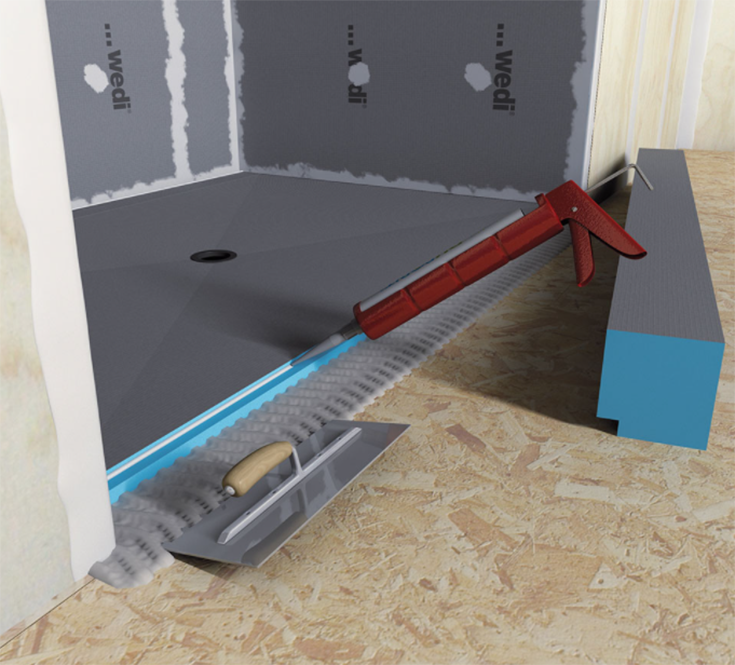 Con #3 – It's risky to buy a low-profile shower pan for a small stand-up shower pan which gets clogged often
Low profile pans are smart because they're simple to step into (a huge benefit for someone whose mobility isn't good). And they offer a sleek, modern look.
However, they're not nice when you have long-haired family members who are constantly clogging your drains. You see if drain clogs happen frequently AND you have a small 32" x 32" or 36" x 36" stand up shower pan, the limited water-holding capacity of a low-profile shower pan can become a nightmare.
You see if someone is running the water to get it warm, doesn't know the drain is clogged and goes away from the shower for a few minutes WITHOUT realizing the drain is clogged you could end up with a disaster on your hands. That disaster would be ….
A shower which has overflowed. OUCH!
So, if you have a small stand-up shower be careful if you use a low-profile shower pan (or insist everyone in your family has short hair…..OK, fat chance that's happening!).
Con #4 – You can't install an in-floor heating system on a low-profile grout free shower pan
You've imagined a toasty-warm shower floor on frigid Winter mornings. And though grout free shower pans are stylish (and low maintenance), they aren't compatible with in-floor heating systems like tile showers.
Con #5 – It's hard to use a shower curtain with low-profile shower pans
Maybe you've got hard water and hate cleaning glass shower doors. Or you don't want to buy an expensive glass enclosure and are planning to use shower curtains instead. If this is your shower strategy, you may want to think twice about a low-profile shower pan.
You see with a low-profile pan (which is 1" to 2" off the floor), it's easier for water to escape with shower curtains than if you use a mid-height (3" tall) or full height (from 4" to 5" tall) shower base.
So, is a grout free low-profile shower pan right for your project? How can I (or my team) help you?
After reading this article, do you think grout free low-profile shower pans are a smart option for your shower remodel?
If you have questions about low-profile bases (or any type of shower pan), grout free shower walls or glass shower doors call me (or my team) at Innovate Building Solutions at 877-668-5888 or click for a Free Design Consultation.
And if you're looking for a Cleveland bathroom remodeling contractor, our Bath Doctor division would love to help. Call 216-658-1270 or click for a Free Estimate
Lastly, if you're a remodeler or builder and want advice on remodeling products, industry trends, marketing and sales tips to grow your business (and cut day to day hassles), read my newest blog – Innovate Builders Blog. It's packed with ideas you can use now to make money in your business. Click here to Sign Up for the Innovate Builders Blog. If you'd like to learn how to become a shower wall panels and shower pan dealer call and ask for Mike at 888-467-7488.
To connect on LinkedIn, go to @MikeFotiLinkedIn.
Thanks for reading,
Mike