Happy Friday! I'm back with another edition of Friday Favorites and you all seemed to like this new format last week, so I'm glad to hear it. It will be fun to come up with new things to share each week.
Feature Friday
Here's an older Feature Friday that I did several years ago when I visited Barbara Mandrell's beloved log home, Fontanel.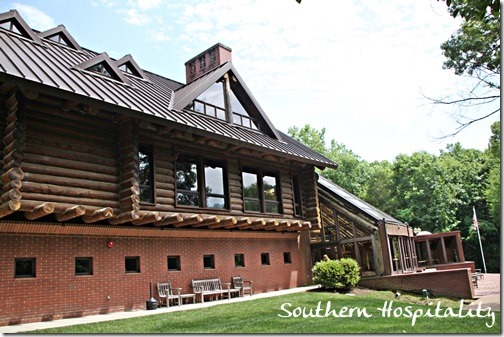 See Part 1 and Part 2 here of the house. That was a very interesting house to visit in the Nashville area.
Instagram Inspiration
I enjoy following Sweet Shady Lane, since they sold their big home on the water and have bought and are renovating a smaller historical home she's calling Little Oak. It's going to be so fun to watch the progress on this one!
I just found Paula recently with Town and Country House and she's fun to follow. She's a designer with a beautiful traditional home in the Greenville, SC area. Her home is so warm and welcoming. She has a soup recipe that she shared that is super simple and I've been making it myself. So easy and only 4 ingredients. I add a dollop of sour cream, chopped avocado and a little bit of shredded Monterey Jack cheese and squeeze a fresh lime if you really love that flavor like I do. It's so good and SO easy! I just bought 2 rotisserie chickens and deboned them so I'll have plenty of chicken for this soup. I think the fresh salsa is the key to all the flavor. It tastes very much like my favorite Mexican chicken soup I sometimes buy.
My friend, Sara with Simply Southern Cottage continues to inspire (she's grown so much since I first met her a few years ago) and she and another gal who lives in Minden, LA applied for Minden to be on a new Home Town HGTV show and that will be coming up in the next year. Good for them! What fun it will be to see their little town on national TV.
There continues to be a lot of inspiration on Instagram to find and follow! I hope you can open these links to Instagram, you may have to have an account there to open them.
Around the House
Here are a few things I spotted online for around the house. Don't forget about TJ Maxx and now Homegoods also has online shopping now, so you can get the good deals at home, in case you don't have these stores near you. I love the deals at both!
This Made in Italy picture frame is so cute and I love the blue shade.
This Safavieh rug is a good deal with soft pretty colors, just my style. I love this brand and have a few of them in my house.
I love a rattan side table/stool and this one would be perfect for magazines and books.
You know my love of rattan and wicker is deep and this rattan planter is so much like one I found at Homegoods a few years ago. What a deal too!
Cute nightstand from Target/Studio McGee line 
Loving this Safavieh bamboo nightstand, it's cute and petite.
What We're Watching
We haven't found any series lately that has got us interested, except we did watch Yellowstone. The language is terrible, but we enjoyed the story line. I've also watched the prequel 1883 and think it's going to be good. It's hard to find things that are decent to watch sometimes, so lately we've been watching older movies.
Father of the Bride, Part 1 and Part 2 have been on our DVR lately and these movies are just as good as they were when they came out. Hard to believe the first one is 30 years old now!
That's it for this week, thanks for stopping by and have a great weekend!
Related
Don't Miss a Post, join my list!