I'll be honest and tell you choosing the right glass shower door can be downright confusing! And I'll bet a 'dollar to donuts' (and isn't that the weirdest saying ever?) you too may be struggling with these questions about them:
What is the cheapest glass shower door?
What shower glass is simplest to clean?
What shower door will give me privacy since my kids and spouse are notorious for barging in the bathroom?
What shower glass won't explode and cause someone in my family to get hurt?
What shower glass gives me the best views of my cool tile or shower surround panels?
What type of shower glass is best for a walk-in shower if I don't have bookoo bucks to spend AND don't have a huge space to work with?
What types of shower glass can become an architectural feature and add 'wow factor' to my bathroom remodel?
And while you've been on web site after web site which sells shower glass walls and glass doors, all of them are basically doing one thing. They're pushing their products vs. answering your questions.
If you've experienced this frustration attempting to navigate through shower door web pages, I feel your pain.
And in this article my goal is to reduce your pain. I'm going to give you simple answers to frequently asked questions homeowners have repeatedly asked me and my team regarding shower glass. AND to make it even better, I'm going to do it WITHOUT boring you with technical jargon. Sure, I could throw around fancy construction words to make myself feel smart. However, if I do try to make myself feel too important or smart my wife Rose, whom I've been married for 37 years (although I'm not that old because we did get married at the age of 9), will set me straight before you have to!
So, let's look at 7 frequently asked questions to choose the best shower glass door or shower glass wall for your project.
Frequently Asked Questions to Choose the Best Shower Glass Door or Glass Wall
Frequently asked shower glass question #1 – What's the cheapest glass shower door?
I get it, EVERYTHING in your bathroom remodeling project has cost more than expected. With supply chain issues and contractors who are as 'hard to get' as the prettiest girl or most handsome guy you can remember in high school, it's no wonder your budget is stretched thin.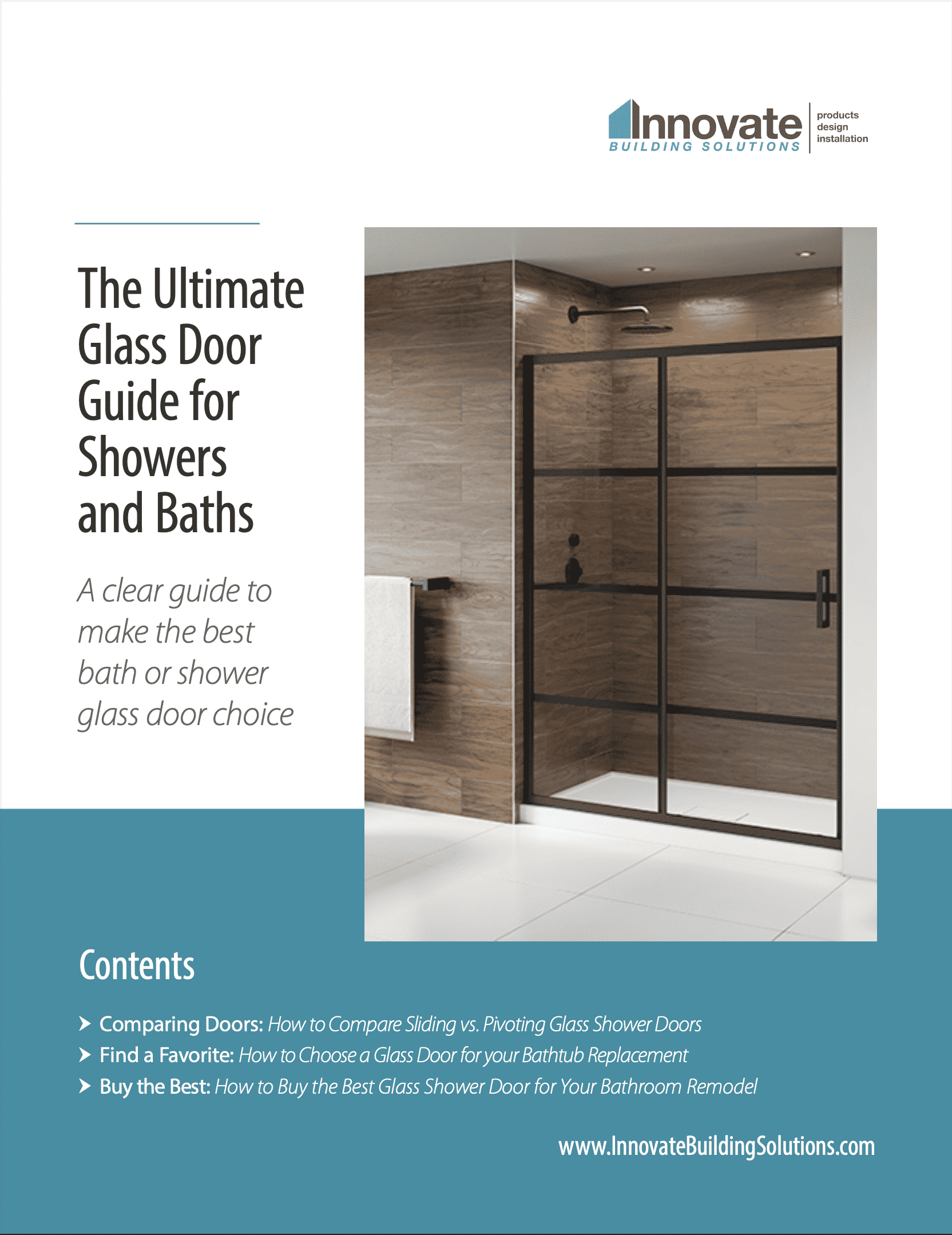 The Ultimate Glass Door Shower Guide
A clear guide to making the best bath or shower glass shower door choice
You need to start saving SOMEWHERE! And if your goal is to keep the cost of glass shower doors down here's 3 tips to do it.
Tip #1 – Choose clear glass shower doors over obscure, tinted or low iron glass (we'll discuss low iron glass more in frequently asked question #5). Clear glass doors are made in high volumes. This makes them more cost-effective.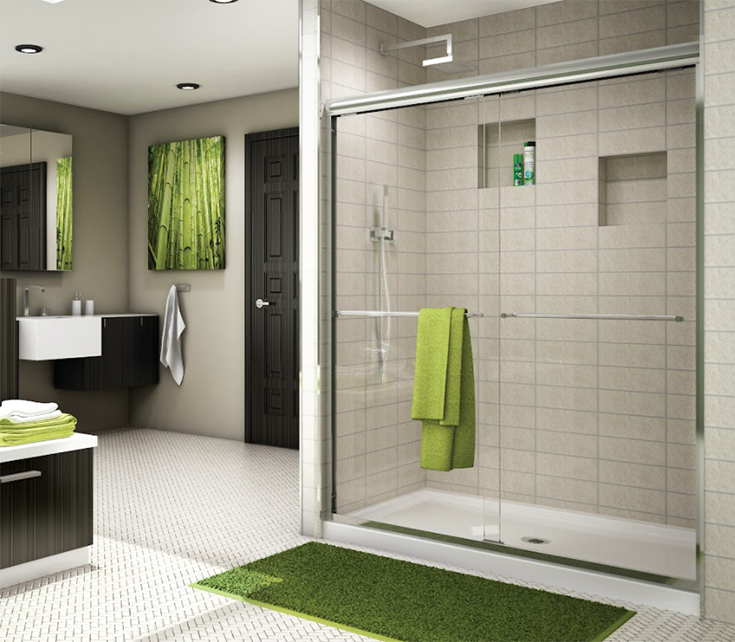 Tip #2 – Buy thinner framed glass shower doors. Glass shower doors with metal around the edges are the lowest priced. However, if you go this way (especially if you choose a sliding door system) expect to live with door tracks you have to clean and clean and clean. It's the downside to thinner framed doors which keeps 'giving and giving' (or should I say taking and taking your time away).
Tip #3 – Select shorter glass doors. This is a common 'trick' manufacturer's use to sell you a cheap door. Shorter doors are OK when you and your family are shorter. However, if you're choosing a sliding (where one door slides) or a bypass glass shower door (where both doors slide) make sure the bottom of the rail is high enough for the 'big boys or big girls' in the fam can enter without ducking!
Frequently asked shower glass question #2 – What glass shower door will be easiest to clean?
OK so you're the unlucky one who 'gets to' clean the shower doors (and yes, I'm putting this in quotation marks because you're hardly the 'lucky winner' when you're stuck with this job!). And you're 'sick and tired' (as mom used to say) of doing this.
You want a simpler to clean glass shower door system. And you need simpler to clean shower glass doors as Colonel Nathan R. Jessup would have said from my favorite movie A Few Good Men. However, what can you do to get it? Here's what.
First – buy a frameless glass shower door. Insist on eliminating evil door tracks on the bottom.
Second – use obscure or patterned glass. Yes – they cost more (see the discussion in question 1 on why). However, with this type of glass even when there's spots on the you may not see them. Yah you!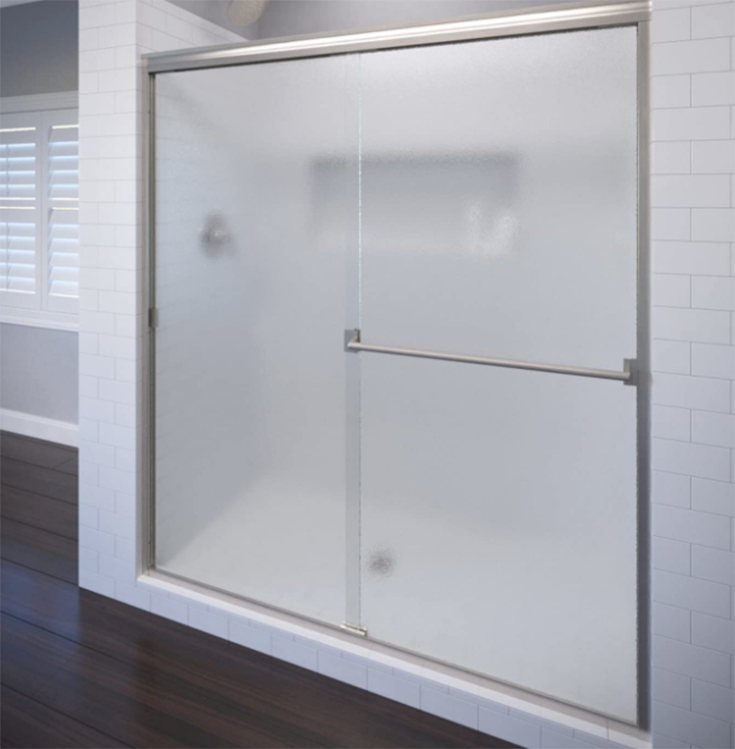 Image Source: www.bascoshowerdoors.com
Third – purchase a shower system which has factory applied glass surface protection. It's like getting an 'industrial-strength' version of 'Rain-X' for your shower door.  Can't you just feel the grime rolling off your door right now?
Frequently asked shower glass question #3 – What glass shower doors and glass shower walls offer maximum privacy?
If you love your family but you're desperate to get a few minutes of privacy without interruptions while showering, YOU ARE NOT ALONE!
You've wondered why your kids have to come in the bathroom fighting (and want you to settle their score) while you're trying to destress for just a few minutes in a hot shower. Or you've wondered why your spouse needs to ask you where their favorite shirt is in their blown-apart closet when you're trying to let your shower 'take you away Calgon'.
You want privacy in your shower doggone it. Your clear glass shower doors ARE NOT the way to get it.
And while this article is not going to solve the challenge of your family respecting your privacy, I can give you advice to make your shower more private.
The simple way to do this is using obscure or pattern glass. I know my wife loves the rain glass in our shower. It's private, lets in a lot of light AND doesn't show spotting (see FAQ #2 above). Do expect, however, to pay more for privacy glass.
Other options in high privacy glass are frosted glass (which is highly private but reduces light), tinted glass (which can give a fun look for your bathroom – but also darkens your shower) and a glass block shower.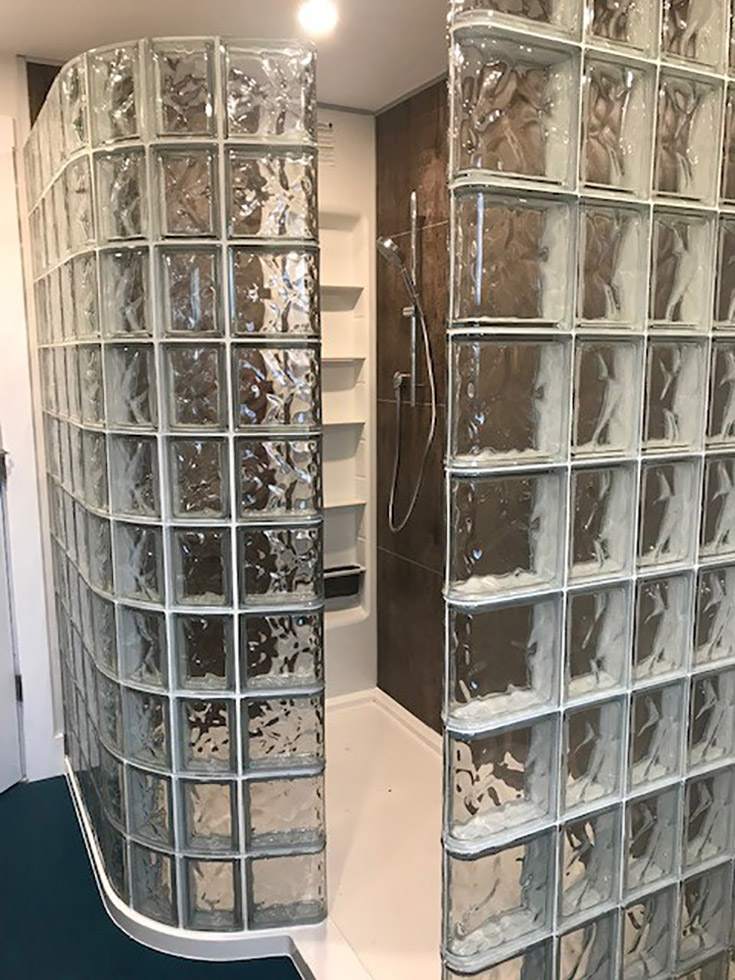 Frequently asked shower glass question #4 – What shower glass won't explode and cause an injury?
You've read horror stories on the Internet of shower doors exploding and causing injuries. And while manufacturers will point the finger at contractors and say they installed the shower doors wrong or use a lame excuse about extreme variation in temperature (which is HIGHLY unlikely inside your home) there's still no definitive answer to these infrequent cases of exploding shower doors.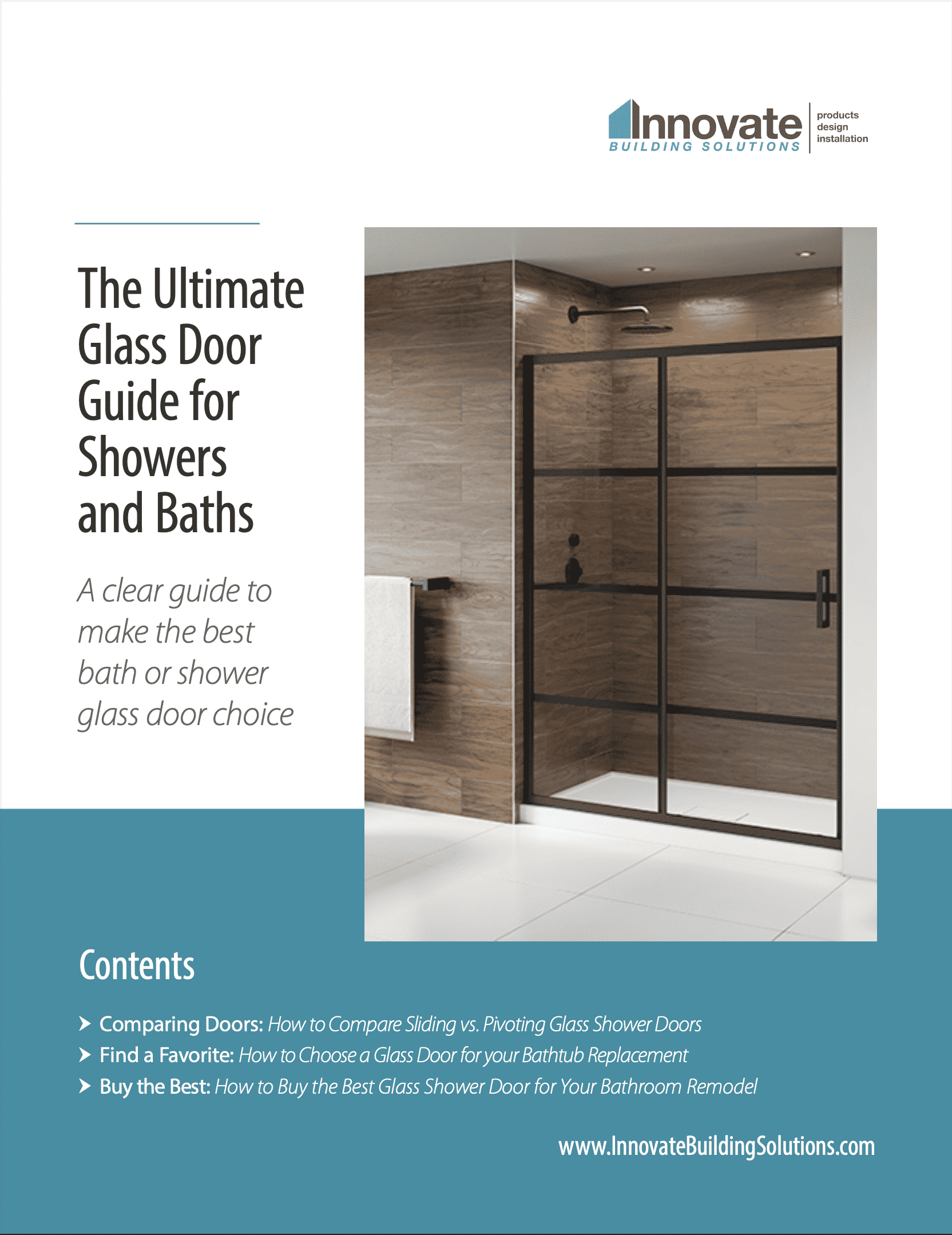 The Ultimate Glass Door Shower Guide
A clear guide to making the best bath or shower glass shower door choice
With all this being said you still want to know simple things you can do to protect your family. Here's 3 points you'll want to check off your list.
Point #1 – Make sure your shower glass is tempered (which most shower doors are). 
Point #2 – Shut doors gently. I know this is easier said than done with some of your family members.
Point #3 – Find a manufacturer who offers a 'secure-glass' option. In the video below you'll see how Fleurco security glass shower doors use a transparent film over the glass door which in the (very) unlikely event the glass where to break, it stays within the transparent film.
Frequently asked shower glass question #5 – Which shower glass offers the best views of my ceramic tile or shower surround panels (and maximizes light transmission)?
OK – this is a trick question because I'm sure all of you 'playing at home' have already answered to get the best views into a shower of your ceramic tile or grout free shower surround (like the one you'll see below) is to use clear shower glass.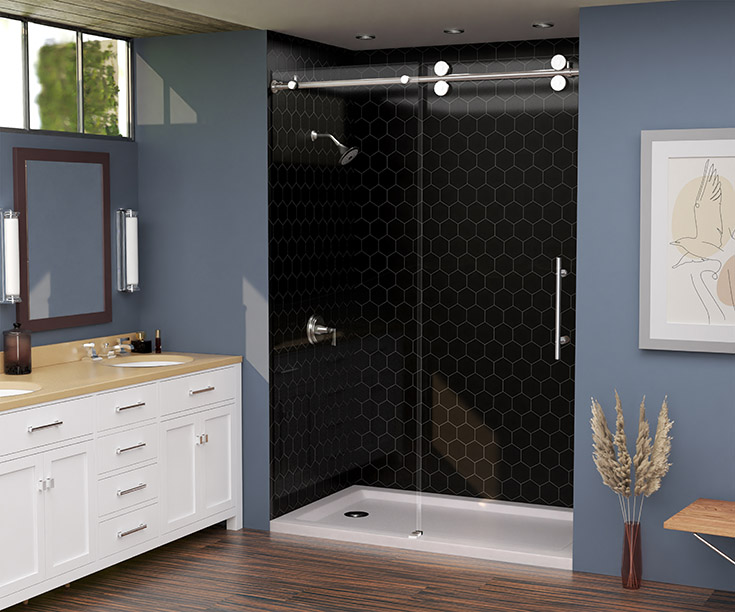 And as your 'teacher' I'll only (unfortunately) be able to give you 'partial credit' for this answer – believe it or not!
You see most shower glass (as well as the drinking glasses your family uses every day) ARE NOT completely clear. They're slightly tinted. Look at your shower glass (or drinking cups) closely you'll see they have a green or gray tint. The reason for this is iron is used in making glass. The iron creates the (normally) greenish or grayish hue in standard glass.
To have a 'completely clear' shower (and one which lets in 6% more light than a 'standard' glass system) choose 'low iron' (also called Starfire) glass for your shower. Most people have never heard of low iron glass but it's like the difference between a standard drinking cup and a piece of crystal. The crystal is 'crystal-clear' (bad pun intended).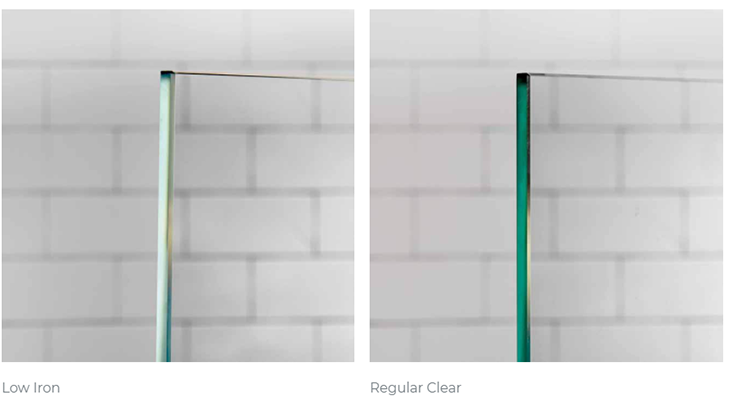 Image Source: www.showerdoorwa.com
And if you want the BEST VIEWS and MOST LIGHT – the low iron shower glass is the winner.
The only problem with low iron glass is it's 2x as expensive as a standard clear glass shower door.
Frequently asked shower glass question #6 – What type of shower glass is best for a walk-in shower if I don't have bookoo bucks to spend AND don't have a huge space for a walk-in shower?
You love the openness of a walk-in shower. However, you assumed there's no way you can afford one – or have the space for one – in your 48" or 60" wide alcove shower.
And I'll tell you before I 'evolved' into a 'bathroom products geek' (and isn't this what everyone dreams of becoming as a little kid?) I would never have thought it would be possible to do a walk-in shower in a 4' wide space. But I'm going to share a secret how to do this AND not blow all your money on a glass shower door (if you promise not to tell anyone).
The way to make this happen is using a pivoting shower screen. With a pivoting shower screen, part of the door swivels which gives you room to enter. In addition, you can slightly angle the door inwards, so you won't need a full enclosure. And what's even cooler is pivoting shower screens are less money than a wall-to-wall bypass glass shower door. Now how's that for special?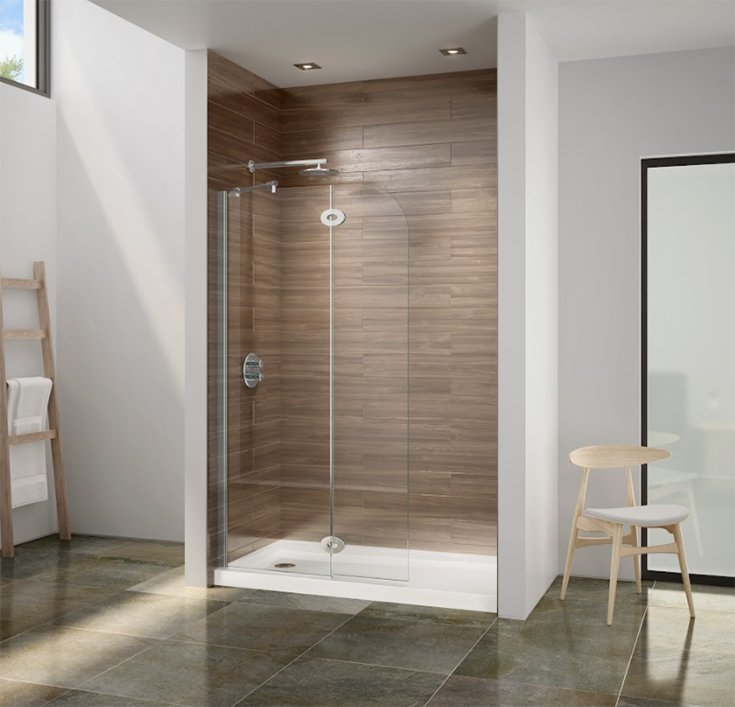 Frequently asked shower glass question #7 – What types of shower glass can become an architectural feature and add 'wow factor' to my shower?
While most of the questions above are practical, your goal with your new shower (and bath remodel) may be to go beyond practicality and add pizzazz to your shower. You want a shower which is fun, stylish and has the wow your cheap builder's grade shower you 'enjoy' today doesn't. However, you're not sure how to create a one-of-a-kind shower design. Here's 3 ideas to go beyond function and add fun.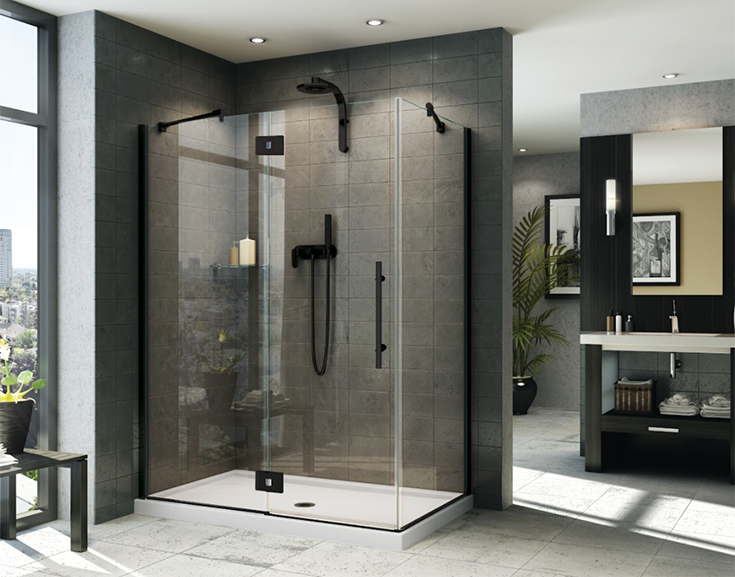 Idea #2 – Use tinted or patterned glass – Tinted and patterned glass add flair AND privacy. They won't look generic like something you grabbed off the shelf at a big box store.
Idea #3 – A glass block walk in shower – Glass blocks have gotten a raw deal as remodelers and designers who aren't familiar with the product say they're out of style. IMHO this is ridiculous. There is no 'glass building block' like glass blocks where you can mix up patterns or create a cost-effective curved walk-in shower. Glass blocks can be fun, contemporary, and stylish IF you find a glass block shower designer who knows what they're doing.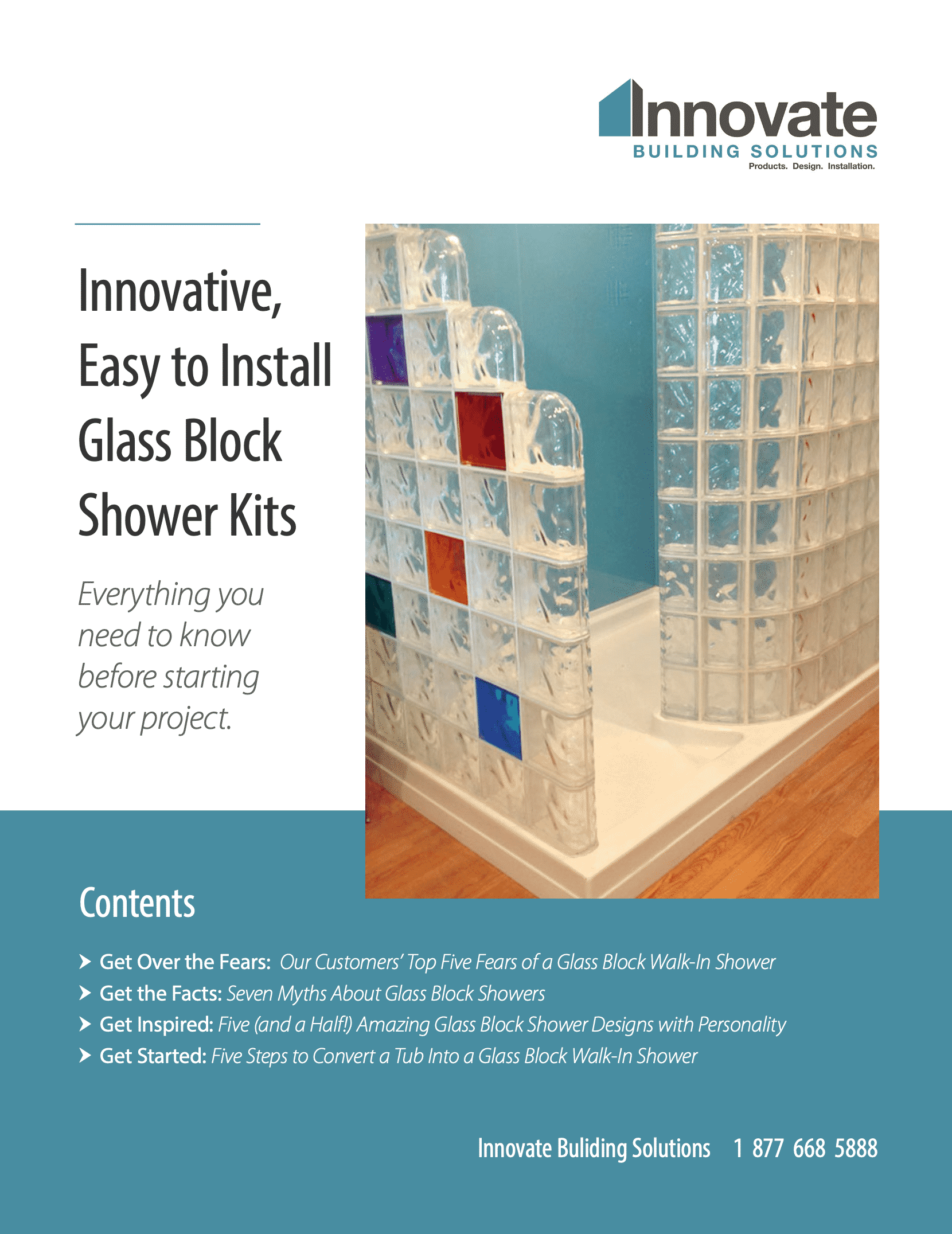 Glass Block Shower Ultimate Guide
The Ultimate DIY Guide for your Next Bathroom Remodel
So, do you have a 'clearer picture' (yes- bad shower door pun intended) of the best glass shower door or wall for your project?
My goal in this article was simple – to help you get answers to frequently asked glass shower door questions AND to make your selection process simpler. Did I accomplish my goal?
And even though I hope you now have a better idea of the best shower door for your bathroom, you may still need pricing or input choosing options. And if this is you, me and my team would love to help.
Our business wholesales a broad line of glass shower doors and prefabricated glass block showers and would be honored to help you. Call 877-668-5888 (nationwide) or click for a Free Design Consultation. And if you're looking for a Cleveland shower remodeling contractor, call The Bath Doctor at 216-531-6085.
We know you have a lot of choices in shower and bathroom products. We're committed to making your journey through the sea of selections simpler (and may even be able to help you find a reputable contractor through our dealer network as well).
Thanks for reading and putting up with my (at times) bad humor!
Mike
###
If you want more advice (with less wacky humor because you'll see the 'buttoned-up' business version of me) follow me on LinkedIn @MikeFoti.
And if you're a bathroom remodeling contractor interested in being a dealer of unique shower wall panels, shower pans and glass shower door systems, call 888-467-7488 and ask for Mike.