If you'd like to inject a little bit of individuality into your interior, then the addition of a few statement pieces of furniture might be just the thing. They don't have to be massive and imposing to be effective; you can make a few subtle additions and add plenty of character.
What's a statement piece?
Just about anything that draws attention (or makes a statement, if you want to be literal) is a statement piece. While this is usually furniture, it can equally well be a piece of artwork, or a decorative statement wall, or even a light fixture.
Let's run through a few of the possibilities, and see how they might work in your interior.
Light
Without the right lighting, your interior isn't going to work. When light is coming from a single decorative light fixture, you can create an arresting effect for everyone who walks into the room. When it comes to choosing a light fixture, you'll want to think about your own personal taste. Size matters, here – you want something that grabs attention without making the room feel small. 
When making your decision, be sure to think about how the room looks when the light fixture is on, rather than just considering the fixture in isolation.
Bold Colours
Going bold when it comes to your colours can pay dividends. You can create contrast and use it to draw the eye where you want it to go. A single statement wall can act as a focal point when the rest of the room is in pastel shades. Brash, flashy wallpaper can be highly effective, too – provided that it's used sparingly. Colour theory can help you out here.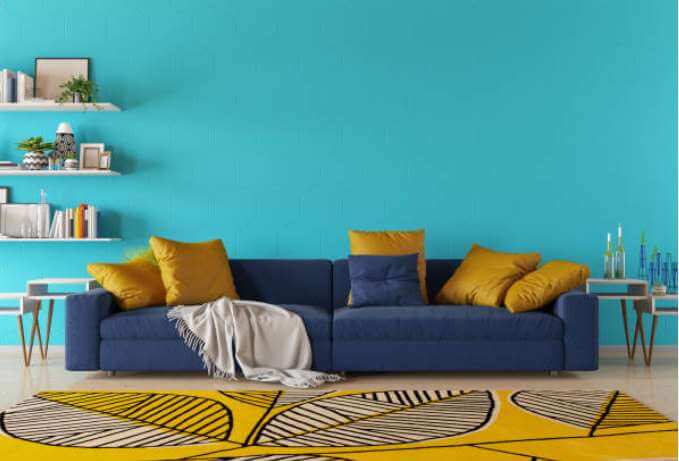 Furniture
Statement furniture comes in many forms. Again, it's not just size you'll need to think about. In fact, when it comes to sofas and coffee tables, it's often better to let practical concerns determine the size of the item, and rely on texture and shape to create an aesthetic impact. Again, it's about contrast – if the rest of the room is filled with sharp edges and pale hues, then any rounded sofa that's brightly-coloured is almost guaranteed to draw attention to itself.
For practical reasons, it's better to allow your furniture to inform the rest of the room. It's easier to match a shade of paint to a piece of furniture than it is to do the opposite.
Moulding
Moulding is something that tends to be subtle and unimposing. But it's also an excellent opportunity to add a little bit of character – especially in rooms where the eye is naturally drawn up to the ceiling. There are as many different kinds of moulding as there are profiles – and you can even get it custom-made if you feel like adding a little bit of your own personality to the space.